Jordan said on Monday it was expelling the Syrian ambassador and giving him 24 hours to leave after comments accusing the kingdom of abetting the West against Damascus.
A foreign ministry statement said Ambassador Bahjat Suleiman, a former general and intelligence chief, had violated diplomatic protocol by posting repeated comments on social media that criticized Jordan and its Gulf allies.
Suleiman has accused Jordan in his posts of hosting radicals sent to fight President Bashar al-Assad's forces and providing a haven for hundreds of Syrian army defectors training them with Saudi help to go back and join armed groups.
"Mr. Suleiman used the territory of the kingdom as a platform to level unfounded accusations in more than one statement and post…this was despite repeated warnings for a long while," the statement on state news agency Petra said.
Syria declared Jordan's charge d'affaires in Damascus persona non grata in response to what it said was an unjustified decision by the kingdom to expel its ambassador, Syrian state television said on Monday.
Western media reports repeatedly stated that Jordan is supporting Syrian armed groups operating in Syria against the national military and people, while is publicly calling for a political solution to a global war on Syria that has cost over 100,000 lives.
The Western-backed kingdom has harbored more than one million refugees from neighboring Syria's war.
27-05-2014 – 07:48 Last updated 

27-05-201
اللحظات الاخيرة للسفير السوري في عمان .. من ودعه و ماذا قال ؟
أعلنت سفارة الجمهورية العربية السورية فتح باب الاقتراع في الانتخابات الرئاسية، اعتبارا من السابعة صباحا حتى السابعة مساء من يوم غد الاربعاء، داعية رعاياها في الاردن للحضور الى مقر السفارة في عبدون بالعاصمة عمان للمشاركة في الانتخابات، وفقا لبيان صادر عن السفارة.
يأتي ذلك، فيما غادر السفير السوري في عمان ، بهجت سليمان ، ظهر اليوم الثلاثاء ، العاصمة الاردنية عمان عائدا الى بلده بقرار من الحكومة الاردنية بعد ان اعلنته، امس الاثنين ، شخصا غير مرحب به ودعته لمغادرة الاراضي الاردنية خلال 24 ساعة .
وداع سليمان قبل مغادرته


وكانت شخصيات اردنية الى جانب ممثلي الجالية السورية و الطاقم الديبلوماسي و الإداري في السفارة السورية في عمان في وداع  السفير بهجت سليمان صباح اليوم قبل مغادرته للأراضي الأردنية.
وفي ذات السياق، دعت الفعاليات الوطنية السورية للمشاركة في استقبال من وصفته بـ' صقر الديبلوماسية السورية' اللواء السفير بهجت سليمان و ذلك في تمام الساعة السادسة و النصف من مساء اليوم في منزل السفير في منطقة المزة بدمشق.
وختم السفير  مسيرة مثيرة للجدل خلال السنوات الثلاث الاخيرة، والتي شهدت فيها العلاقات الاردنية السورية مناكفات عديدة جراء  مساعدات  الاردن للمسلحين  .
 قطع جسور التواصل مع السفارة السورية


  كتب سليمان على حساب منسوب له في موقع التواصل الاجتماعي فيسبوك معاتبا الحكومة الاردنية ومتهما اياها بتعمد قطع جسور التواصل مع السفارة السورية.
وقال سليمان ان الحكومة لم تكتف باحتضان وتدريب وايواء الجماعات المتطرفة وتأمين وصولها الى سوريا بل تريد من السفير السوري ان يشكرها على ذلك ويبارك خطواتها في الانخراط الكامل مع اعداء سوريا.
 
كما هاجم سليمان الاعلام الاردني الرسمي وشبه الرسمي بحسب تصنيفه، مشيرا الى انه لم يترك تهمة الا وألصقه بالدولة السورية، فيما وجّه  شكره للشعب الاردني على حسن الضيافة، واصفا الشعب الاردني بأنه توأم الشعب السوري.
وتاليا أخر ما كتبه سليمان قبل مغادرته الاردن :
ومشكلة ُ الحكومة الأردنية ، هي مع ' اعْتراض السّفير السوريّ ' على موقفها العِدائيّ ، تجاهَ سوريّة )
– ثلاث سنوات ، حتّى اليوم ، لم تَتْرُكْ الحكومة ُ الأردنيّة ، جِسْراً مع السفارة السورية ، إلا ّ وقَطَعَتْهُ ، ولم تَتْرُكْ باباً إلا ّ وأغْلٓقَتْهُ ، ولم تَتْرُكْ مَسْرَباً لِ مُضَايَقَةِ السّفير ودبلوماسيّي السّفارة ، إلا ّ وسَلَكَتْهُ .
– ولم يَتْرُكْ الإعلامُ الأردنيّ الرّسميّ وشِبْهُ الرّسمِيّ ، تُهْمَة ً أو رَسْماً مُقْذِعاً ، إلا ّ وألْصَقَتْه ُ بالدولة الوطنيّة السوريّة .


– وإذا لم يَقُمْ السفير بذلك ، فَهُوَ ، بِنَظَرِ هذه الحكومة ، ' يُسيءُ ' للأردن وللأردنيين ' ويجب إقامة ُ الحدّ الدبلوماسي عليه .
وأمّا : ( الشعبُ الأردنيّ )
– فَأمْرٌ آخَرُ ، لِأنَّه تَوْأمُ الشعبِ السوريّ ، ولم يَحْظَ السّفيرُ ، طيلة ٓ السّنواتِ الخمس التي قضاها في عَمّان ، إلا ّ بِمُنْتَهَى الحُبُّ والوِدّ والتّفدير والاحترام ، من أغلبيّةِ الشعبِ الأردني .
– ولهذا الشّعْبِ العربيّ الأردنيّ الأصيل ، أسْمَى آياتِ الاحترام والشُّكْر والعرفان ، والتقدير والامتنان ، مِنِّي شخصياً ( أنا بهجت سليمان ) ، وستَبْقَى أنْبَلُ المواقف ، مِنْ آلاف الشُّرَفاءِ في الأردنّ ، محفورة ً في نَفْسِي ووِجْدَاني ، إلى يَوْمِ الدِّين .
عن وقاحة ابن الإنكليزية: هل تكون الحرب؟

تفاجأ السوريون بالخبر الذي تم تناقله هذا الصباح قبل أن يروا بأم أعينهم صورة الرسالة التي وجهتها الخارجية الأردنية إلى السفارة السورية في عمان، والتي استهلتها بإهداء التحيات لتعود في الجملة التالية وتكشف أن هدف الرسالة هو مطالبة السفير السوري في عمان، الدكتور بهجت سليمان، بالمغادرة وأنه قد أصبح شخصاً غير مرغوب به. القرار الأردني أثار الكثير من التساؤلات إن كان لناحية التوقيت أوبيريز يزور الأردن ويلتقي الملك المضمون أو لكونه مقدمة لحدث جلل مقبل. فمن ناحية التوقيت، جاءت هذه الخطوة مفاجئة تماماً بتوقيتها؛ فبالرغم من صدور تحذير رسمي، في السادس من حزيران الماضي، من وزارة الخارجية الأردنية للسفير السوري بأنه سيتم اعتباره شخصاً غير مرغوب به إن استمر في اطلاق تصريحاته التي تمحورت حول استضافة الأردن لمؤتمر أصدقاء سورية وحول مطالبة الأردن الولايات المتحدة بنشر بطاريات صواريخ باتريوت على أراضيه. إلا أن ذلك التحذير كان مفهوماً في الحقيقة، إن لم يكن متوقعاً. فغياب ذلك التحذير يومها كان يعني اعتراف الأردن بحقيقة الاتهامات التي أطلقها السفير السوري ممايعني بالتالي تشجيع التيار الشعبي الأردني المعارض للسياسة الحكومية تجاه سورية. لذلك كان من الضروري يومها أن ترد الحكومة الأردنية بشيء ما حتى لو كان من باب التحذير فقط.
أما من ناحية المضمون، وبالرغم من أن العلاقات الرسمية السورية الأردنية تاريخياً لايمكن وصفها بالعلاقات المستقرة، فقد تبادلت دمشق وعمان سحب السفراء عدة مرات خلال العقود الماضية ولكن في كل مرة كان ذلك يأتي كنتيجة، أو كمحصلة، لخلافات سياسية ذاتية بين البلدين كما حصل عندما كان الأردن يدعم جماعة الإخوان المسلمين، وأداتها العسكرية الطليعة المقاتلة، في نهاية السبعينات وبداية الثمانينات، أو، قبلها، عندما دخلت القوات السورية إلى الأردن ووصلت الدبابات إلى إربد في أيلول 1970، إلا أن التصرف الأردني اليوم يأتي ترجمة واضحة لا لبس فيها للضغوط الخارجية عليه من ناحية وانقلاباً على المواقف الأردنية السابقة التي كانت تحاول إبقاء الباب موارباً مع دمشق.
فالسياسة الأردنية تاريخياً كانت تعمل لضمان تحقيق هدف واحد وضع في قمة قائمة الأولويات، قبل أي شيء آخر، وهو الحفاظ على استقرار العرش الأردني الهش. وصف العرش الأردني بالهش ليس من باب التطاول أو التجريح وإنما هو توصيف لطيف، في الحقيقة، لحكومة تحكم بلداً بلا موارد طبيعية وأقل من نصف سكانه من هم من حملة الجنسية الأردنية. هذا الوضع أجبر العرش الأردني، طوال العقود الماضية، على ممارسة سياسة تقود الأردن إلى التقلب في الاصطفافات والتمايل في وجه العواصف التي تضرب المنطقة ولكن ماكان يسجل للملك حسين هو مقدار، ولو ضئيل، من الاستقلال في القرار، كما حصل عندما ساند دخول الجيش العربي السوري إلى لبنان في العام 1976 بالرغم من أن معظم الدول العربية الأخرى قد عارضت ذلك حينها، وماكان يسجل له من مقدار، ولو ضئيل أيضاً، من الحس السيادي، كما حصل عندما قامت المخابرات الإسرائيلية بمحاولة اغتيال خالد مشعل حيث هدد الملك حسين نتنياهو بقطع العلاقات مع إسرائيل إن لم يتم تقديم الترياق لمشعل فوراً.

أما اليوم فقد فقدت السياسة الأردنية كل ما كان متبقياً لديها من استقلال وسيادة حيث تحولت لمزيج من ببغاء يردد الخطاب الإعلامي الغربي المعادي وأداة تنفيذ تكتيكية واستراتيجية للمخططات الغربية. حيث كرر الأردن ماتم الخروج به في مؤتمر أصدقاء سورية مؤخراً، مؤتمر لندن 11، حول عدم صحة إجراء الانتخابات الرئاسية السورية الآن. ويبدو أن الأردن قرر المساهمة في تلك المساعي الغربية لإحباط الانتخابات من خلال اغلاق السفارة السورية في عمان. هذا الإغلاق كانت بادرته المطالبة اليوم بخروج السفير السوري. فمن الطبيعي أن يقود هذا الإجراء دمشق إلى الطلب من القائم بالأعمال الأردني في دمشق أن يغادر أيضاً وربما يتم إغلاق السفارة الأردنية بالكامل. هكذا سيكون من المنطقي بالنسبة للحكومة الأردنية أن تطلب إغلاق السفارة السورية ممايعني عملياً إلغاء إمكانية إجراء الانتخابات الرئاسية السورية هناك. وبذلك تكون الحكومة الأردنية نفذت من جانبها مقررات المؤتمر الذي حضرته ووافقت على مانوقش فيه.

إن الحرص الأردني على توصيف السفير السوري بالشخص غير المرغوب به هو بكل تأكيد خطوة تصعيدية، بل ويمكن وصفها بالخطوة الوقحة، فالحكومة الأردنية لم تطلب مثلاً تخفيض التمثيل الدبلوماسي السوري ليصبح مساوياً لنظيره الأردني في دمشق، وهو مستوى القائمين بالأعمال، وهو مايمكن وصفه بالخطوة المحايدة نسبياً، بل تعمدت انتهاج طريق يقود إلى خلق جو معادي بكل تأكيد.

هنا قد يقلق بعض السوريين من أن القرار الأردني اليوم هو مقدمة، من نوع ما، لعمل عسكري تجاه سورية، وخصوصاً أن هذا القرار صدر مع بداية مايعرف بمناورات الأسد المتأهب وهي المناورات التي تشارك فيها قوات عسكرية من حوالي 24 دولة في الأردن. مثل هذا القلق قد يكون مفهوماً، خصوصاً لكون الانخراط الأردني في المخططات الأمريكية قد تجاوز المراحل السابقة ويكاد يقطع نقطة اللاعودة. ولكن هذا القلق، في الحقيقة، مبالغ فيه كثيراً وذلك لأسباب كثيرة. فالتغييرات الميدانية التي حققها الجيش العربي السوري في باقي الجبهات تشير إلى أن موازين القوى قد تغيرت إلى غير رجعة. وكذلك فإن الأحداث الدولية، التي لم يكن أخرها الفيتو الروسي الصيني المزدوج لحماية سورية في مجلس الأمن، ومحاولات الأطلسي التمدد في أوكرانيا والتصدي الروسي لذلك، كلها تشير إلى أن التأجيج العسكري في الشرق الأوسط هو خيار مستبعد الآن لتجنب تأزيم العلاقة بين القوى الدولية وإيصالها إلى نقطة اللاعودة. وقد أصبح مفاعيل التغييرات الدولية الأخيرة واضحة بعد زيارة نائب رئيس الوزراء الروسي ديمتري روجوزين، رئيس اللجنة الصناعيّة العسكرية الروسية، إلى دمشق الأسبوع الماضي حيث تم التأكيد على أهمية إجراء الانتخابات في موعدها وأيضاً تطوير العلاقات الثنائية وتقديم ماتحتاجه سورية بمافي ذلك بطبيعة الحال تطوير العلاقات الدفاعية.

 إضافة إلى أن الجيش السوري قد نفذ في الفترة الماضية عمليات واسعة في الجبهة الجنوبية، وبحسب مصادر ميدانية، فإن القوات المنتشرة الآن تفوق من حيث العدد والعتاد ماكان منتشراً في أي مرحلة سابقة خلال السنوات الثلاث الماضية، ممايجعل أي عمل عسكري الآن أقل احتمالاً من أي وقت مضى. وفي كل الأحوال، ومن ناحية عسكرية بحتة، فإن القوات المنتشرة الآن في الأردن لاتزيد عن 12 ألف عسكري من بلدان متعددة منهم 8 ألاف عسكري أمريكي ولكن هذا العدد الإجمالي لايصل إلى 8% من العدد الذي انتشر في الكويت قبيل تنفيذ عملية غزو العراق 2003. وحتى في ذلك التاريخ، لم تكن قدرات الطرف الثاني، أي قدرات الجيش العراقي، تعادل 10% إلى 25%، على أحسن تقدير، من قدرات الجيش العربي السوري اليوم. إضافة إلى أن القدرات العسكرية العراقية يومها لم تكن تكفل القدرة على الضرب داخل الأراضي الكويتية، وبالتالي لم تكن توفر رادعاً للكويت.
لكن الوضع مختلف بالنسبة للأردن الذي تقع قواعده كلها في مرمى الصواريخ السورية بداية من الرمثا التي تبعد 6 كيلومترات عن الحدود السورية وصولاً إلى العاصمة عمان التي تبعد حوالي 70 كيلومتراً، وبين الرمثا وعمان مدن المفرق وإربد والبلقاء وعجلون وجرش والزرقاء. أي أن كل الأردن تحت رحمة الصواريخ السورية ونحن هنا نتكلم عن صواريخ الراجمات وليس عن ما أعده الجيش السوري في السنوات الماضية لمواجهة الكيان العبري. من نافل القول أيضاً التذكير بأن أي عمل عسكري ينطلق من الأردن سيطيح بالكثير من التوازنات الهشة القائمة حالياً هناك، وخصوصاً في ضوء أحداث معان مؤخراً.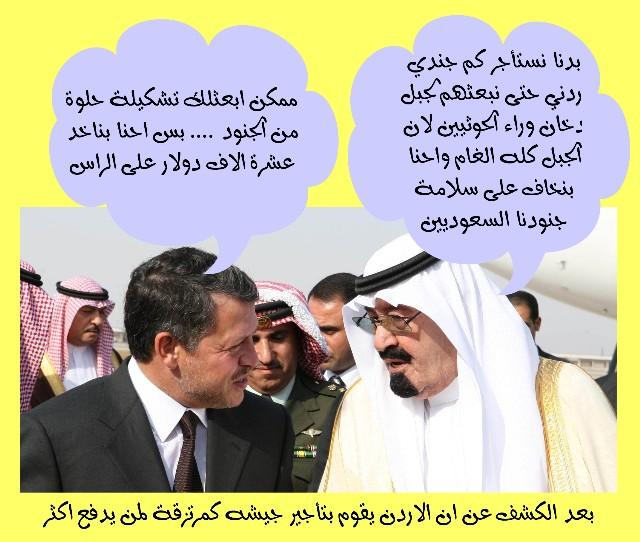 إن التصرف الأردني اليوم، وبعيداً عن كل الوقاحة التي تم تغليفه بها، ليس أكثر من خطوة إعلامية تهدف إلى رفع معنويات من سحقوا في أكثر من موقع، ليس أخرها سجن حلب المركزي، وإفشال اقامة الانتخابات السورية في السفارة السورية في الأردن.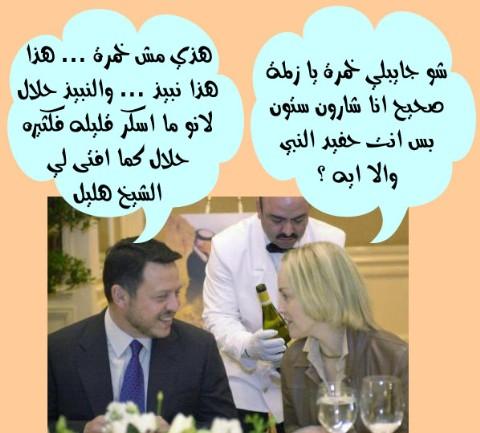 هذا التصرف يجب أن لاينظر عليه لناحية كونه تصرفاً مفاجئاً في الخط العام، فهذا ما عودنا عليه الأردن منذ سنوات الاستقلال الأولى. ولعل الشيء الوحيد المفاجئ، في الحقيقة، هو الصبر السوري طوال تلك السنوات. 
الجمل
Related Articles
River to Sea
 Uprooted Palestinian   
The views expressed in this article are the sole responsibility of the author and do not necessarily reflect those of the Blog!
Filed under: Jordan, War on Syria | Tagged: "Friends of Syria", FSA |