O Hamas guys …Hamas needs a revolution
Hamas confirmed its adherence to the resistance and its weapons until the liberation of all the Palestinian territories from the abomination of the Zionist enemy.
During a military parade organized by the movement in the Gaza Strip on the occasion of the twenty-seventh anniversary of Hamas' foundation on Sunday, Ezzedine al-Qassam Brigades spokesman Abu Obeida said that the Israeli entity is on the brink of extinction and collapse due to the resistance and sacrifices of the martyrs.
He said that another conflict might be inevitable unless tens of thousands of Gazan homes that were destroyed in the last Israeli aggression are rebuilt. The 50 days of war killed 2,100 Palestinians, most of them civilians. "We will accept no less than the rebuilding of everything that was destroyed by the savage Zionist aggression," Obeida said.
Abu Obeida thanked all those supporting the resistance on top of which the Islamic Republic in Iran. He praised Iran for providing "financial and military" assistance to Hamas.
He also thanked Qatar and Turkey for "supporting [Gaza's] people and the Palestinian cause."
"The upgrade in Al-Qassam Brigades' military capabilities over time has been evident throughout each confrontation with the Israeli army," Abu Obeida said. "And we have more to show the Israeli army," he added
Hamas paraded 2,000 of its armed fighters and truck-mounted rockets through Gaza, vowing to destroy the Zionist entity.
In the parade, trucks carrying three long-range rockets and other vehicles with multiple rocket launchers drove by, while a drone with Hamas markings sat on a flatbed truck. Another Hamas drone and an Israeli aircraft flew simultaneously overhead.
One of Hamas' founding leaders, Khalil al-Hayya, reaffirmed the resistance movement's founding charter, which is the destruction of Israel. "This illusion called Israel will be removed. It will be removed at the hands of the Qassam Brigades," he said, referring to the armed wing of Hamas.
15-12-2014 – 09:55 Last updated 

15-12-2014 – 10:14
الرئيس السوري يقول: اتفقنا واختلفنا مع القيادات الفلسطينية في مراحل مختلفة ومن حين إلى آخر، ولكن لم يقع فراق أو قطيعة مع أي طرف فلسطيني رغم تجربتنا المريرة مع "الإخوان".
إرم – دمشق
كشف الرئيس السوري بشار الأسد في اجتماع مع رؤساء الجالية الفلسطينية في أوروبا، على هامش المؤتمر الثالث للجاليات الذي عقد في دمشق، بداية الشهر الجاري، تفاصيل التوتر الذي تعيشه علاقات سوريا بحركة حماس والقطيعة التي انتهت إليها.
وبَيّن الاسد أن حماس حاولت التوسط بين النظام السوري والإخوان المسلمين، وأن الحكومة السورية رفضت الوساطة، كاشفا النقاب عن أن السلطات السورية اعتقلت ابنة خالد مشعل وزوجها بعد اكتشاف أنهم كانوا يهربون سلاحا لتنظيمات المعارضة السورية.
وخلال اللقاء، الذي استغرق ساعات، تحدث الأسد بإسهاب عن حركة حماس وعن منظمة التحرير فقال: نحن في سوريا ومنذ انطلاقة الثورة الفلسطينية فتحنا الأبواب أمام الفلسطينيين وقدمنا لهم ما نقدر عليه، والأهم هو أن الفلسطينيين كانوا يشعرون بأنهم يعيشون في وطنهم.
وقال: اتفقنا واختلفنا مع القيادات الفلسطينية في مراحل مختلفة، ومن حين إلى آخر، ولكن لم يقع فراق أو قطيعة مع أي طرف فلسطيني، مضيفا، أنه في عام 1999 وبعد طرد قادة حماس من الأردن فتحنا الأبواب لهم بالرغم من تجربتنا المريرة مع "الإخوان"، وقلنا إن من يطارَد ويحاصَر إسرائيليا وأميركيا فأبواب سوريا مفتوحة أمامه مهما كانت معتقداته.
وذكر الأسد أن سوريا قدمت لهم كل التسهيلات، وكل الإمكانات في سبيل القضية الفلسطينية، وسوريا تعرف بالمسبق: أنهم امتداد للإخوان المسلمين السوريين الذين اشتبكنا وتصارعنا معهم طويلا، لكن ومن منطلق وطني فصلنا ما بينهم وما بين الإخوان المسلمين، وتعاملنا معهم على أنهم مقاومون فلسطينيون أصحاب قضية، متابع،ا كانوا يتغنون دوما بمواقف سوريا الوطنية والقومية، وقلنا لهم إن سوريا تقوم فقط بواجبها القومي والوطني، فقد مورست الضغوطات والحصار علينا منذ تلك اللحظة لاحتضاننا حماس.
وأشار الأسد إلى أنه بعد غزو العراق وسقوط بغداد، جاءنا الرسل الأميركان مهددين ومحذرين من أن القوات الاميركية وقوات التحالف، في طريقها الى سوريا والكرة الآن في ملعبكم، والمطلوب منكم فقط، هو طرد حماس من سوريا.
وتابع، رفضنا ذلك وثبتنا على مواقفنا بالرغم من الوضع السوري الضعيف في تلك المرحلة،
لقد جاءنا الناصحون والأصدقاء من كل جهة وصوب يحذروننا ويقولون لنا:
لا تدمروا سوريا. أخرجوا حماس من سوريا
.
ومع ذلك رفضنا ذلك بإصرار وقوة وكل ذلك كان من منطلق إيماننا بالقضية الفلسطينية.
ولفت إلى أن حماس تواجدت في سوريا، وعملت بكل حرية وانفتاح ووجدت المأوى الآمن لها هنا، وقدمنا لهم تسهيلات لم تقدم في تاريخ سوريا لأي طرف كان.
ولفت إلى أن قيادة حماس كانت تطلع القيادة على كل اتصالاتها مع الدول العربية، وتنظر بخطورة كبيرة للدور القطري على القضية الفلسطينية، متابعا، وهنا أقول، مرة ثانية، لقد اعتبروا الدور القطري أداة من أدوات اسرائيل والولايات المتحدة.
وقال: في أحد لقاءاتي سابقا مع خالد مشعل، جاء وطرح علي أن قيادة حماس ومن منطلق "سد الدَّين" لسوريا فإنهم في الحركة، يستأذنوننا بأن يبدأوا ببذل جهود مع حركة الاخوان المسلمين السوريين لعمل مصالحة مع الدولة السورية وأنهم "أي حماس" قادرون على ذلك، ولمسوا إيجابية كبيرة من قبل الإخوان المسلمين السوريين تجاه جهدهم هذا.

وأضاف: قلت لمشعل: أنت فلسطيني ومقاوم، وأطلب منكم بألا تتدخلوا في الشؤون الداخلية لأي بلد عربي. مشكلتنا مع الإخوان شأن داخلي سوري لا تزجوا بأنفسكم به،عليكم أن تحافظوا على هدف واحد أوحد، وهو أن يكون الجميع معكم. لا تخسروا طرفا على حساب طرف آخر؛ فقضيتكم بحاجة لجهد الجميع, فلا أرى أنه من الضرورة أن تتدخلوا بالشؤون الداخلية لأي بلد، ولا نطلب منكم رد الجميل على مواقفنا تجاهكم، فما قمنا به هو واجب وحق علينا تجاه القضية الفلسطينية.
وأشار إلى أنه أكد على مشعل بضرورة أن يكفوا عن ذلك، مبينا، قلت له: إن الإخوان المسلمين في سوريا، هم مواطنون سوريون أولا وأخيرا، فإن القوانين والأنظمة هي التي تفصل بيننا.لا أريد ان أطيل عليكم في هذا الشأن ولكن أريد أن أنقلكم لبداية احداث الازمة السورية.

وبيّن الأسد: أتذكر أن مشعل كان قد التقى مع احد الإخوة المسؤولين في هذا البلد، قبل بداية الأزمة السورية، وعقب أحداث تونس، وخلال الأحداث في مصر، وقال له إ
ننا في حماس نتوقع مؤامرة أميركية إسرائيلية على سوريا، وأنهم يفكرون بضرب محور المقاومة، ونتوقع أن تكون سوريا، كونها رأس الحربة في هذا المحور، أن تتحول إلى هدف، ونحن ومنذ الآن وبلا تردد أو تفكير، نعلن وبصراحة أننا سنكون الجنود الأوفياء لسوريا في هذه المعركة التاريخية.
وتابع أنه ومع بداية الاحتجاجات الشعبية والاحداث في بعض المدن السورية التقيت بمشعل على رأس وفد من حماس وكان أكثر تطرفا مني، ومن القيادة السورية؛ فقد طالبنا أن نقمع وأن نصفّي هذا الحراك بكل قوة لأنه عنوان مؤامرة دولية ضد سوريا.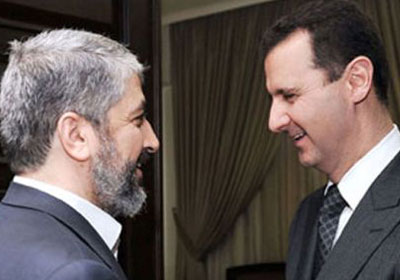 وقال مشعل يومها، لا

تأخذكم بهم رحمة إنهم عملاء لاميركا ولاسرائيل

مؤكدا على مواقفه بأن الدفاع عن سوريا الآن، هو دفاع عن فلسطين

، وأعلن استعداده وحركته، بأن يكونوا الجنود الأوفياء لسوريا، وقت الطلب منهم ذلك.




وقال مشعل إن حركة حماس ومن أجل ذلك شرعت باتصالات ومراسلات مع أطراف عديدة لتوضيح هذه المؤامرة الكبيرة التي تتعرض لها سوريا.

وأوضح الأسد: نحن لم نكن واثقين أو مطمئنين لموقف حركة حماس فعندنا من كان يحذر من دور ربما يكون معدا لهم.

وقال تواصلت الأحداث ويوما بعد يوم كنا نرصد تدخلات لعناصر من حركة حماس فيما يجري في سوريا واعتقلنا بعض هؤلاء، وأطلقنا سراحهم بعد أن جاء إلينا قادة من حماس يستنكرون ذلك، ويقولون لنا إنها حالات فردية, وأذكر هنا حدثا واحدا وهو أن ابنة خالد مشعل وزوجها كانا قد ضبطا بعملية نقل اسلحة مستغلين الحصانة التي كانت ممنوحة لقيادة الحركة، فقمنا باعتقالهما وأطلقنا سراحهما فيما بعد ، وكنا نقول لعل وعسى.

وللحقيقة، لا بد من الإشارة هنا الى أن حماس تمكنت، في بادئ الأمر، من خداع بعض حلفائنا الإقليميين وكانوا يثقون بها وبصدق مواقفها، وكنا نطلعهم أولا بأول على كل تدخلات وتجاوزات حماس, لكن المصيبة الكبرى أن حماس حاولت استغفال الدولة السورية، وتحت عنوان التعاون والحرص على سوريا كانوا يزودوننا بتقارير أمنية مخادعة ومضللة.
وقال الرئيس السوري: عند هذه اللحظة أدركنا بأن حماس هي شريك أساسي في ما يجري بسوريا، ولكن لم نعلن ذلك، وبقي الوضع على ما هو عليه، ولكننا كدولة سورية أصبحنا نتعامل معهم كطرف متآمر على سوريا وضبطنا وتابعنا تحركاتهم وتدخلاتهم، وهناك من أتانا من أبناء حماس الأوفياء على الأراضي السورية ليخبروننا بما تقوم به الحركة ضد سوريا، مضيفا، ومع هذا لم نتعامل معهم بالعلن كما هو موقفنا بالسر، إلى أن جاء وزير خارجية قطر السابق، حمد بن جاسم، على رأس وفد من الجامعة العربية، في مهمة إلى سوريا لنفاجأ بلقاء يعقد بين خالد مشعل وحمد في السفارة القطرية في دمشق، وكان حمد في تلك المرحلة على رأس الحملة ضد سوريا.
وقال الأسد: استدعت الدولة مشعل، أبلغته بشكل حاد أن هذا اللقاء فيه تجاوز لأدب الضيافة والبروتوكول والاحترام، فقد كان الأولى به أن يتصل بالدولة، ويقول إنه دعي للقاء وزير خارجية قطر او أنه يرغب لقاءه، ولكن هذا لم يتم، وتصرف الطرفان وكأن الارض السورية مستباحة، مضيفاعند تلك اللحظة قيدت حركة حماس على الأراضي السورية بشكل واضح ومعلن وبدأنا نرصد يوما بعد يوم تدخلاتهم.

وأكد في اللقاء أؤكد لكم أن ما شهده ويشهده مخيم اليرموك، وبعض المخيمات الفلسطينية الأخرى لم يفاجئنا، وكنا نتوقعه، فمنذ البداية أدركنا ان هناك شيئا يعد للمخيمات، وكانت حماس هي الجهة التي تعمل من أجل ذلك، وخوفا من فتح معارك جانبية ارتأينا أن نفوت الفرصة عليهم منذ البداية، حتى لا يكون الحديث عن صراع فلسطيني سوري، وهذا ما كان يعد له داخليا وخارجيا. نحن لم نطلب من أي طرف فلسطيني الوقوف معنا أو الانحياز لنا، وكنا حريصين على أن يبقى الفلسطينيون كذلك.
وقال: السلطة الفلسطينية ومنظمة التحرير وبالرغم من فتور علاقتنا بهم في المرحلة التي رافقت احداث سوريا لم نطلب منهم الانحياز لنا، وكذلك لم ننتقدهم لحياديتهم ورأينا في موقفهم انتصارا لقضيتهم وهذا حقهم ولكن ما يثلج صدرنا ان الفلسطينيين أنفسهم كانوا من أكثر الجهات والشعوب الذين التقطوا حقيقية المؤامرة التي تعد لسوريا؛ فما حصل ويحصل لما يكن هدفه النظام فهذا كذب وافتراء الهدف هو تدمير سوريا انتصارا لإسرائيل، هكذا نظر الفلسطينيون لذلك، وهم محقون وبكل فخر أقول إن الشعب الفلسطيني قد سبق كل الشعوب في فهم ذلك، وحتى الشعب السوري نفسه.
ولفت إلى أن الوطنيين الفلسطينيين وعلى رأسهم منظمة التحرير والرئيس عباس أدركواحجم هذه المؤامرة، وأن سقوط سوريا هو سقوط للقضية الفلسطينية.
وقال: أنا الآن في غاية السرور باستضافتكم وكذلك في غاية السرور بأن

معركة سوريا، أسقطت القناع بشكل سافر وواضح عن

الإسلام السياسي، الذي لا تؤمن لا بوطنية ولا بقومية،

وإنما يؤمن فقط بمصالحه الذاتية، ويسعى لها مهما كان حليفه فلا قيم ولا أخلاق ولا مبادئ، ولا صدق ولا وفاء،

إلا أنه رغم ما حصل كان جيدا للأمة العربية بأسرها، مضيفا: لا تنخدعوا بالإعلام، ومواقف الدول؛ فالكل يهرول الآن لسوريا، من أجل علاقات من تحت الطاولة، ولكن موقف سوريا هو العلاقات المكشوفة. ومن خدع وتآمر على سوريا عليه أن يعلن ذلك صراحة وعلانية، لأنه بذلك سيكون عبرة للآخرين.
2014-12-14 11:18:01 : تاريخ النشر
River to Sea
 Uprooted Palestinian   
The views expressed in this article are the sole responsibility of the author and do not necessarily reflect those of the Blog!
Filed under: Iran, Palestine, Qatar, Syria, Syria Assad, War on Syria, Yarmouk | Tagged: Al-Qassam Brigades, American "Muslim" Brotherhood, Hamas, Islamists, Khaled Mishaal, Nusra Front, Palestinian Resistance, Sectarian Wars |