Claim that Israel pays Hebron young to escalate violence
This posting has three articles. They contain a lot of information some of which is also highlighted here:
1) Ma'an: Hebron mayor: Palestinians detained for collaborating with Israel to 'escalate violence'
2) Breaking the Silence: Video on the purpose of checkpoints;
3) JTA: 20 Jewish settler families move into Palestinian buildings in Hebron;
4) JPost: Inciters Moshe and Shlomo Levinger, photo by Tovah Lazaroff;
5) Ma'an: Israeli authorities ban Muslims from entering Ibrahimi Mosque in Hebron, September 1st, 2016 ;
6) Wikipedia: map of Hebron showing H1 and H2 districts;
7) Guardian: Why Hebron matters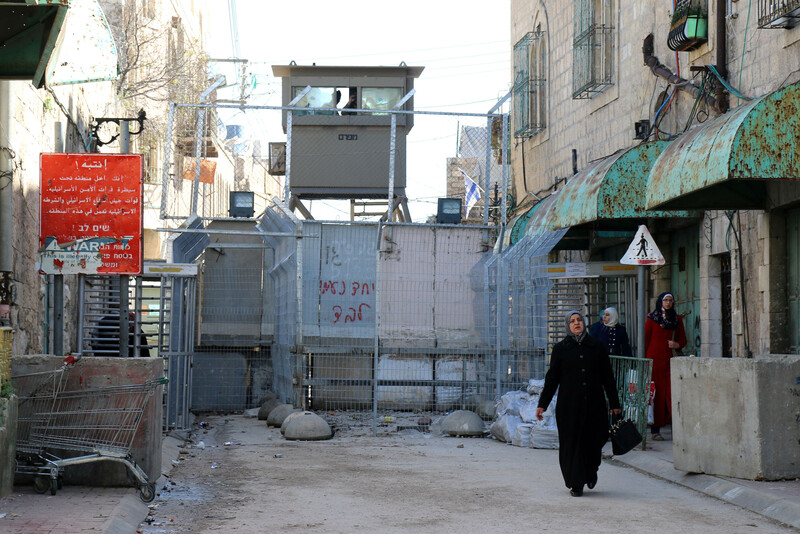 One of the 122 Israeli checkpoints and barriers installed in Hebron, this one blocking off Shuhada Street in February 2015.  Shuhada Street used to be the main road connecting East and West Hebron before it came under Israeli control. Photo by Ahmad Al-Bazz / ActiveStills

Hebron mayor: Palestinians detained for collaborating with Israel to 'escalate violence'
By Ma'an news
September 20/21, 2016
HEBRON — Palestinian security forces have recently detained an unspecified number Palestinians suspected of being hired by Israel to "escalate violence," according to the mayor of the southern occupied West Bank city of Hebron, amid a spike in unrest that has seen seven Palestinians and one Jordanian killed by Israeli forces since Thursday.
"Our reports indicate that Israeli forces provoke Palestinian children and incite them to carry knives. Israeli soldiers keep asking Palestinian children at checkpoints, 'Where are your knives? Why aren't you carrying knives?'," Kamel Hameid said in a press conference on Tuesday.
Hameid told reporters that Israeli security forces, with the support of the Israeli government, have been carrying out an "ethnic cleansing" campaign against unarmed Palestinian citizens, adding that "Israel's escalation of violence and executions is exacerbating the situation in Hebron to the brink of disaster."
Seven Palestinians have been killed by Israeli forces in Hebron since Thursday, after a period of relative calm since a wave of unrest spread across the occupied territory nearly a year ago, which has seen 230 Palestinians killed by Israelis and 32 Israelis killed by Palestinians.
The Hebron area in particular grew as the epicentre of upheaval, with Israeli authorities severely restricting the movement of Palestinians in parts of its Old City as a "closed military zone" for several months, while July's closures on Hebron saw the most widespread restrictions on movement in the occupied West Bank in two years.
While Israel alleges many of those were attempting to attack Israelis when they were shot, Palestinians and rights groups have disputed Israel's version of events in a number of cases.
Extrajudicial executions
Israel has also come under repeated criticism for failing to carry out due process in response to alleged and actual attacks, particularly in regard to the apparent extrajudicial executions of Palestinians who did not pose a threat when they were killed.
One man was fatally shot last Thursday as Israeli forces struggled to detain him during a raid, while the other six were shot dead while allegedly committing or attempting to commit stabbing attacks on Israeli military targets in the days since.
In the wake of this week's violence, the Israeli army deployed an additional battalion to the Hebron district, while an Israeli army officer vowed strict punitive measures would be would be imposed on Palestinian civilians in the area
'When you first arrive in the territories you think the purpose of the checkpoint is to catch terrorists. You're there to catch the bad guys. But that's not the purpose of the checkpoints. The purpose is to create arbitrariness which instills genuine fear in the Palestinians'.
Israeli soldier, Breaking the Silence.
Meanwhile, Israeli forces have detained a number of Palestinians across the occupied West Bank for allegedly being in possession of knives in recent months amid the violence, many of them minors.
Hameid said that Israel has escalated tension and a policy of collective punishment on innocent civilians to serve its "occupational purposes," by adding more forces to Hebron's Old City, while also banning Palestinian worshippers from entering the Ibrahimi mosque — located at the epicentre of tensions between local Palestinians and Israeli forces and settlers — among other punitive measures.
The Hebron mayor added that Israel has also began to impose an "economic siege" on Hebron, whereby a number of factory owners "have been prohibited from importing basic materials to their factories and were also banned from exporting their products to Jerusalem."
Hameid also said that Israel targets Hebron's educational system through its numerous military checkpoints in the area that obstruct students from reaching their schools, while Israeli forces have also regularly fired tear gas canisters at the class rooms.
The mayor called upon Palestinian Authority to put Israel under pressure to force it stopping its "monstrous" violations against Palestinians.
Collaboration
The allegations of collaboration with Israel comes after reports emerged in September last year that 20 Palestinians filed a lawsuit against the PA in an Israeli court, seeking up to $100 million in damages after they were detained for alleged collaboration with Israeli intelligence.
Under Palestinian law, collaboration with Israel may be punishable by death.
Information passed to Israel's security services by Palestinian collaborators has in the past been used to make arrests and assassinate high-profile political and militant figures.
Israeli rights group B'Tselem says that Israeli intelligence often offers Palestinians permits necessary to earn a livelihood, medical treatment, or money in exchange for information.
There have also been reported cases of Israeli intelligence using personal information to blackmail Palestinians into collaboration.
B'Tselem has also documented cases where the PA has executed Palestinians convicted of collaboration in "patently unfair" judicial processes.
---

Right-wing provocateur Baruch Marzel dancing with Jewish men during the annual parade marking the Jewish holiday of Purim in the divided town of Hebron, March 5, 2015. Photo by Yonatan Sindel/Flash90
20 Jewish settler families move into Palestinian buildings in Hebron
By JTA
January 21, 2016
Twenty Jewish families moved into two adjacent buildings in an all-Palestinian section of the already tense West Bank city of Hebron, sparking more clashes.
The families said on Thursday they had legally purchased the two homes from Palestinians and that the previous inhabitants had moved out, several media outlets reported.
However, Palestinian activists said the settlers had broken into at least one of the buildings and that Palestinians were living in it at the time, Agence France Press reported. Rioting broke out soon after between Jews and Palestinians nearby, outside the Cave of the Patriarchs.
The Cave of the Patriarchs is a site holy to both Jews and Muslims. Some 20,000 Palestinians live in Hebron. According to The Jerusalem Post, 1,000 Jews live there; AFP says the Jewish population is approximately 500.
According to The Jerusalem Post, the move represents the first time in four years that Hebron's Jewish community has purchased a building.



Inciters Rabbi Moshe Levinger in wheelchair and his son Shlomo tour Hebron for Purim in March 2015. The rabbi, who died two months later, was known as a 'founding father' of settlements and the pioneer of the Jewish settlement in Hebron.  Shlomo rented a house in the Palestinian area of Hebron in 2012 despite state opposition. Photo by Tovah Lazaroff.
A spokesman for the families, Shlomo Levinger, told the Post that the families have proof of sale and all the necessary legal permits from the civil administration to inhabit the structures, but still need Defence Minister Moshe Yaalon's signature.
Security sources told the Post that the settlers still need three major approvals from upper diplomatic and defence echelons.
Israeli Border Police and soldiers stood outside the two buildings during the move but did not interfere, Levinger told the Post.
Yishai Fleisher, a spokesman for the Hebron Jewish community, told AFP that the families had not informed the Israel Defence Forces about the move beforehand "for fear of leaks and efforts to try to stop it."
It is the historic right of the Jewish people to redeem and build the land.
Israeli Tourism Minister Yariv Levin
Several Likud government ministers, including Absorption Minister Zeev Elkin, publicly praised the settlers' move, the Post reported.
According to the Post, Tourism Minister Yariv Levin said that such action "is more important now than ever. I welcome the determined and blessed efforts of the Hebron residents to redeem and build the land. It is the historic right of the Jewish people to do so."
---

Barrier erected by Israeli police to prevent Muslims reaching al-Ibrahimi mosque in Hebron. Photo by Active Stills
Israeli authorities ban Muslims from entering Ibrahimi Mosque in Hebron
Ma'an news
September 01, 2016
HEBRON — Israeli authorities on Thursday closed the Ibrahimi Mosque in the occupied West Bank district of Hebron to Muslim worshippers reportedly in response to Jewish celebrations at the site, according to local sources. Israeli forces surrounded the premises and prevented Muslims from entering as they escorted Israeli settlers to the mosque. Locals told Ma'an that Israeli forces are conducting security procedures to obstruct the entrance of Palestinian worshippers, while further isolating the site from other areas in Hebron.
The Palestinian Human Rights Organizations Council reported in a statement that Israeli authorities since early July have begun to build a security room at the southern entrance of the mosque which would reportedly replace the current electronic security checkpoints. The group said the changes are an attempt to maximize security around the mosque and make it permanent. The council added that Palestinians have the right to movement and to practise religious rituals at Muslim holy sites, while calling upon the international communuity to "quickly intervene" in the situation in order to guarantee Israel abides by international law.


H1 is under Palestinian control, H2 – which includes the Old City, the Ibrahimi mosque and Cave of the Patriarchs – under Israeli.
The Ibrahimi Mosque, believed to be the burial place of the prophet Abraham, is located in central Hebron, a frequent site of tensions due to the presence of 500 Israeli settlers in the Old City. A 1997 agreement split Hebron into areas of Palestinian and Israeli control. The Israeli military-controlled H2 zone includes the ancient Old City, home of the revered Ibrahimi Mosque — also split into a synagogue referred to by Jews as the Cave of the Patriarchs — and the once thriving Shuhada street, now just shuttered shops fronts and closed homes. More than 500,000 Israeli settlers live in settlements across the West Bank and East Jerusalem, in contravention of international law.
---
Largest city in the West Bank, 30km south of Jerusalem

Guardian, November 14, 2015

Palestinian population of 200,000, among whom live 1,000 Jewish settlers under military protection, with Hebron split into two zones.

In 1997 Hebron was divided into two areas: H1 under Palestinian control and H2 under Israeli control.

The city contains one of the most important sites to Jews and Muslims alike. As home to the Tomb of the Patriarchs, where Abraham, Isaac and Jacob, and their wives, Leah, Rebecca and Sarah are believed to be buried, it is the second holiest place in the Jewish faith. The site is also known as the Ibrahimi Mosque and holds special significance to Muslims.
Filed under: Jewish terrorism, Jewish violence, Nazi Israel, Netanyahu, Palestine, Settlements and settlers, Zionist entity |