EU funding for Israeli military
Some of the information is contained in tables which have proved too time-consuming to reproduce and in jargon which only an expert can translate have been omitted. Such information is not produced for the benefit of the public.
This posting has these items:
1) Electronic Intifada: EU funds firm supplying Israel with banned cluster weapons, an innocent, or cynical, Ali Abuminah remonstrates against the EU's collegiate, sugar-Daddy relationship with Israel;
2) FT: Elbit Systems on hunt for acquisitions, the incomparable John Reed (right questions, right time) looks at why Britain is a target market for acquisitions – it thinks it can do more with British companies than their British owners do;
3) FT: Armed for expansion in the face of global uncertainty, a disaster for many, an opportunity for Elbit systems reports John Reed in this extract;
4) Euro Parliament: The French united left MEP Patrick Le Hyaric raises direct questions about Horizon 2020, the EU Framework for Research and Innovation , and its funding of Elbit Systems. And Britain's MEPs? They're not bothered and on the verge of being pulled out anyway;
5) Europarl: Horizon 2020, the EU Framework for Research and Innovation ;
6) Vrede.Be: European Commission confirms: Millions of EU research money flows to Israeli Arms Industry, Dutch NGO does its homework;

Protests on the roof of Elbit's factory in Staffordshire. July 2015
EU funds firm supplying Israel with banned cluster weapons
Ali Abunimah, Electronic Intifada
August 10, 2017
A boy disabled by a cluster bomb pictured in August 2007 outside his house in Rashidiya Palestinian refugee camp, near Tyre. A year earlier Israel fired more than a million cluster munitions in Lebanon. Guillermo Valle Sipa Press
The European Union is giving millions of dollars of "research" funding to a company that is helping Israel evade an international ban on cluster weapons.
Israel has specifically chosen the company, Elbit Systems, to supply new artillery cannons because a European manufacturer would restrict Israel from using cluster munitions.
Yet the European Commission, the EU's executive bureaucracy, is shrugging its shoulders, insisting to The Electronic Intifada that the funding follows ethical guidelines.
The EC says it strongly supports international bans on cluster weapons and landmines. In response to a query from The Electronic Intifada, a European Commission spokesperson hailed the bans as "major diplomatic achievements" that the 28-member bloc wanted to see fully implemented.
But the EC is planning no action to hold Israel or Elbit accountable.
"Insane and monstrous"
Cluster munitions spread small bomblets over a wide area, posing an immediate, indiscriminate threat to civilians. Many of the bomblets do not explode on impact but continue to cause death and injury long after they are fired, becoming, in the words of Human Rights Watch, "de facto landmines."
During its 2006 invasion of Lebanon, Israel fired more than a million cluster munitions into the country. "What we did was insane and monstrous, we covered entire towns in cluster bombs," an Israeli army officer told the Tel Aviv newspaper Haaretz.
Those weapons continue to pose a danger to people in Lebanon. Since the 2006 Israeli invasion, according to the US embassy in Beirut, more than 40 people have been killed and 300 injured by unexploded ordnance.
Israeli leaders regularly threaten to unleash even greater firepower targeting civilians in a future war on Lebanon.
American, British and Brazilian cluster bombs have also been used by Saudi Arabia, killing, injuring and endangering civilians in its ongoing war on Yemen.
International ban
The 2008 Convention on Cluster Munitions prohibits their use, production, transfer and stockpiling.
More than one hundred countries are fully signed up to the convention.
The European Parliament has also given strong backing to the treaty with a resolution urging the European Commission "to include the ban on cluster munitions as a standard clause in agreements with third countries" and "to make the fight against cluster munitions an integral part of [EU] external assistance programs."
Yet Israel has not signed the cluster munitions ban and far from moving in that direction, it is looking for ways to evade its restrictions.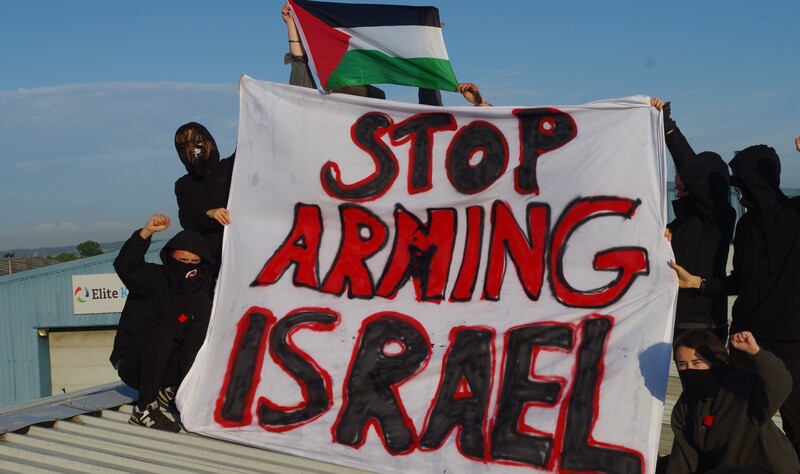 Photo given out by activists shows protest on the roof of Elite KL, the Elbit-owned factory in Staffordshire, UK.
"Complete independence"
Shopping for new artillery cannons, Israel was interested in guns made by the German firm KMW.
But according to a report in Haaretz this week, Israel is instead buying cannons from Elbit Systems because of concerns that the manufacturer in Germany, which is a signatory to the ban, "would restrict the cannons from firing cluster bombs."
A retired Israeli military officer familiar with the matter told Haaretz that Israel was worried the Germans would not give Israel "complete independence" over the use of the weapons.
"We would have been more than happy to have opened bidding because that brings down prices," the officer said, "but we wanted a cannon that would be operated without conditions."
According to Haaretz, Israel continues to manufacture and stockpile cluster munitions, though supposedly ones which leave a very low rate of unexploded bombs.
Although Israel is not party to the cluster munitions convention, Human Rights Watch says it would be preferable for Elbit to stop manufacturing such systems.
"Companies in other countries that are not party to the Convention on Cluster Munitions have taken that step," Mary Wareham, advocacy director for Human Rights Watch's arms division, told The Electronic Intifada.
She noted that last August, US-based Textron Systems announced it was halting production of cluster munitions, while Singapore Technologies Engineering disclosed in November 2015 that it no longer manufactures anti-personnel landmines or cluster munitions.
War Against the People, Israel, the Palestinians and Global Pacification, Jeff Halper, U of Chicago Press, distrbtd by Pluto Press  Oct. 2015
"Elbit Systems, Israel's largest arms company, boasts that its weapons are 'combat-proven,' meaning tried and tested in Israeli military attacks on Palestinians," Ryvka Barnard, senior campaigns officer with the human rights group War on Want, told The Electronic Intifada.
"Elbit has produced white phosphorous, cannons that shoot cluster munitions and countless other weapons that cause devastating civilian casualties, some of which are banned by international treaties signed by EU countries."
EU defends funding to arms maker
Elbit is also the beneficiary of EU largesse. It is receiving almost $6 million in European taxpayer money as part of Horizon 2020 and other EU research funding streams.
But the EU is defending the funding even after the revelation that Elbit is supplying the cluster munition cannons to Israel.
"EU research funding under Horizon 2020 specifically excludes research for military purposes," the European Commission spokesperson told The Electronic Intifada in an email on Thursday.
The spokesperson added that "several mechanisms have been put in place to prevent EU funds from being used for activities that could be contrary to international law," including elaborate review panels and "ethical evaluations."
However, a group of prominent international legal experts recently criticized the Horizon 2020 evaluation process, noting that it ignores EU regulations barring funding to individuals or entities responsible for or complicit in grave misconduct, such as torture, war crimes and crimes against humanity.
"Incentivizing" Israeli crimes
Campaigners do not buy the distinction the EU makes between the military and non-military activities of a company like Elbit, seeing all funding to Israel's arms makers as bolstering Israeli impunity.

Protest 2014 at the Instro Precision factory in Broadstairs, Kent. Photo from Block the Factory
"The EU, and member countries like the UK, admit that Israel systematically violates international law through its military occupation and attacks on Palestinians," War on Want's Barnard stated.
"And yet, they continue to reward the Israeli government and arms companies with research money, contracts and trade deals that feed its war machine."
Barnard added that the EU is "incentivizing Israel's abuses of Palestinian rights and war crimes by continuing its arms trade with Israel."
"It's time for the EU and all of its member countries to take international law seriously, and implement an immediate two-way arms embargo on Israel," Barnard said, noting that grassroots pressure would continue.
Campaigners in Europe have regularly protested against Elbit and its affiliates over their role in Israeli attacks on Palestinian civilians.
"Where governments fail to implement their own policies, and hold Israel to account, ordinary people have taken up the Palestinian call to take up campaigns of boycott, divestment and sanctions on Israel," Barnard said.
In a column describing the horrors perpetrated with cluster weapons, Haaretz's Gideon Levy writes that Israel's determination to ignore the international ban indicates that it "wants to kill as many innocent people as possible."
The European Union, it would appear, is just as determined to help.
---

Elbit Systems on hunt for acquisitions
By John Reed in Tel Aviv, Financial Times
July 11, 2016
Elbit Systems, the Israeli aerospace and defence company, says it is on the hunt for acquisitions and is prepared to spend "hundreds of millions of dollars", including in the UK, where it is undeterred by Brexit.

The 'Watchkeeper', bought by Britain's armed forces from Thales UK/Elbit Systems. The Royal Navy's publicity shot, above, is a an oxymoron – an instrument designed to get information on, and suppress, dissident activity, here floats almost soundlessly over England's Green and Pleasant land populated only by Old Maids biking to Holy Communion (tho' never underestimate them).
Bezhalel Machlis, Elbit's chief executive, told the Financial Times that the group — which already employs about 500 people at five UK companies — was prepared to add jobs as part of its acquisition drive. "I am looking to enhance and expand our activities in the UK," said Mr Machlis. "We are looking for acquisitions. I think we can do more in the UK: we can create more jobs, bring new technologies." Elbit makes surveillance drones, among other things, and produces the Watchkeeper unmanned aerial vehicle in Britain in a joint venture led by France's Thales.
After Brexit, the UK market remains a strategically important market for Elbit Systems
In February, the Israeli company won a £500m UK government contract in partnership with KBR of the US to train British fighter pilots over an 18-year period. Mr Machlis said Britain's vote to leave the EU in a referendum last month would not affect Elbit's plans. "After the Brexit, the UK market remains a strategically important market for Elbit Systems, and we will continue to invest in it," he added. In March, Elbit named Martin Fausset, who previously held senior jobs at Leonardo's AgustaWestland, Rolls-Royce and Ricardo, as head of its UK subsidiary. Mr Machlis did not specify the countries other than the UK where Elbit was seeking to buy companies, but said the group was looking in "complementary areas" to ones where it was already active in Israel, including commercial cyber security and defence electronics.
In Israel, Elbit is bidding for Israel Military Industries, the state-owned armaments maker whose best-known product is the Uzi submachine gun. Elbit reported an order backlog worth $6.8bn at the end of the first quarter, bolstered by rising defence budgets in Europe, the US and elsewhere, amid increasing concerns about migration, terrorism, and the military threat from Vladimir Putin's Russia.
Outside Israel and Europe, Elbit also has companies in the US — where it is producing a new fighter pilot helmet for the military together with Rockwell Collins — and Latin America, South Korea, India, and Australia. Last year Elbit pushed into new activities by buying the cyber and intelligence division of Israel's Nice Systems for $158m.
Like some other big Israeli companies, Elbit has been targeted by campaigners from the Boycott, Divestment and Sanctions movement that protests against Israel's occupation of Palestinian lands. Pro-Palestinian activists have on several occasions temporarily disrupted work at Elbit's UK factories. However, Mr Machlis played down the threat to the company from such campaigners. "I'm not saying it's not a threat, but I think that altogether we can handle it," he said.
---

Armed for expansion in the face of global uncertainty
By John Reed, Financial Times, FT
July 11, 2016
EXTRACT
In relaxed, dressed-down Tel Aviv, Bezhalel ("Butzi") Machlis stands out. He is wearing a dark suit and tie on a Sunday, the first day of the Israeli working week, despite the sweltering heat of summer.
The formal business attire is apt for a man about to deliver bad news. Mr Machlis uses the word "unfortunately" twice in an interview to describe why Elbit Systems — his listed, vertically integrated defence company — has such a strong order list: worth $6.8bn at the end of March.
Elbit is profiting because of worldwide trends, from uncontrolled refugee flows to jihadi terrorism and the military expansionism of Vladimir Putin's Russia, all of which have prompted the US and many European countries to review military budgets.
"There is a decision to increase defence spending," Mr Machlis says. "We are well positioned for that: we have operational systems which are available immediately, because, unfortunately, we face a similar situation in Israel."
At a time when many industrial companies are wary because of global uncertainties, including the Brexit vote in the UK and the rise of populist politicians such as Donald Trump, the Israeli group is looking to expand. It is looking to make acquisitions, including in Britain, and Mr Machlis tells the Financial Times that the group is ready to spend "hundreds of millions of dollars". He says the UK remains "strategically important" for Elbit, and that the vote to leave the EU will not deter it from investing there.
Many larger defence groups focus on just one niche. But Elbit, because of Israel's small size (8.5m people) and the demands of the Israel Defence Forces, offers a full range of security products, from drones to intelligence and surveillance systems. It bought into the latter when it acquired the cyber division of Israel's Nice Systems last year for $158m.
Like many of Israel's successful exporters — most notably a clutch of cyber security start-ups that arose out of military intelligence units — Elbit is parlaying products developed for the country's security apparatus into internationally competitive products. Much of what it sells is trialled by the IDF before being tailored to the needs of armies and law enforcement agencies worldwide.
Using what Mr Machlis calls a "multidomestic" strategy, Elbit works via a network of local companies around the world, from the US and Brazil to Australia and the UK, where it makes Watchkeeper drones in a joint venture with Thales of France. Its customers range from Latin American governments fighting guerrillas and trafficking to Germany's air force, which last year contracted to buy, through local supplier Diehl Defence, a system mounted on aircraft that can deflect "manpads", or shoulder-fired missiles, which are proliferating among militant groups in the Arab world.
…….
---

Question for written answer to the Commission
Parliamentary questions, Rule 130, E-002757-15
Asked by Patrick Le Hyaric (GUE/NGL)
24 February 2015
Subject: Horizon 2020 and Israel
Israel is a partner country in Horizon 2020, the Commission's publicly funded framework programme for research and technological development.
On 9 February 2015, ISERD, the Israeli R&D Directorate for the European Research Area, announced that, under the Horizon 2020 research cycle, the EU had approved 205 projects to a total value of EUR 452.3 million.
One of the undertakings to receive funding is the military industrial corporation Elbit Systems, which tests its deadly systems on the ground through their use against Palestinians. Elbit Systems is also the company involved in building and maintaining the apartheid Wall. It is one of the highest-profile accomplices in Israel's breaches of international law.
Meantime, the Commission has published guidelines on the eligibility of Israeli entities for grants, prizes and financial instruments funded by the EU.
1. Will the Commission ensure that these guidelines are applied in respect of grant aid to military undertakings?
2. Will the Commission end the policy of awarding research funding to Israeli military undertakings?
3. What steps will be taken to make the Horizon 2020 programme subject to ethical criteria so that arms manufacturers from countries which fail to observe international law will not be able to work jointly on projects with EU partners?
E-002757/2015
Answer given by Mr Moedas on behalf of the Commission

All actions under Horizon 2020(1) must comply with Article 19 (2) of Regulation 1291/2013, which requires that research and innovation activities carried out under Horizon 2020 shall have an exclusive focus on civil applications.
Several mechanisms have been put in place to ensure that EU funds are not used for activities other than those with an exclusive focus on civil application or that could be contrary to international law. All projects, most of which are of a collaborative nature involving participants from a number of different countries, are selected on the basis of excellence.
Eligible proposals are evaluated by a panel of external independent experts. If a project raises ethical questions, it also undergoes an additional ethical review(2). The ethical evaluation of these projects includes an assessment of the possible dual-use of the proposed research and compliance with applicable EU, national and international legislation, including the European Charter of Fundamental Rights. Proposals involving security issues can also be subject to additional review. The European Anti-Fraud Office (OLAF) may carry out investigations to verify the use of EU funds in case of sufficiently serious suspicions of fraud or irregularity.
In July 2013, the EU adopted the 'Guidelines on the eligibility of Israeli entities and their activities in the territories occupied by Israel since June 1967 for grants, prizes and financial instruments funded by the EU from 2014 onwards'(3). The participation of Israeli entities under EU funded projects is checked in accordance with these Guidelines.
---
Horizon 2020, the EU Framework for Research and Innovation (2014-2020).
Document from Europarl, EU, thinktank
The Ethics Appraisal Procedure concerns all activities funded in Horizon 2020 and includes the Ethics Review Procedure, conducted before the start of the project, as well as the Ethics Checks and Audits.(3)
….
Commission notice concerning the date of application of the Regional Convention on pan-Euro-Mediterranean preferential rules of origin or the protocols on rules of origin providing for diagonal cumulation between the European Union, Albania, Algeria, Bosnia and Herzegovina, Egypt, Faeroe Islands, Iceland, Israel, Jordan, Kosovo, Lebanon, the former Yugoslav Republic of Macedonia, Montenegro, Morocco, Norway, Serbia, Switzerland (including Liechtenstein), Syria, Tunisia, Turkey and West Bank and Gaza Strip
3
2013/C 205/04
Commission notice concerning the date of application of the protocols on rules of origin providing for diagonal cumulation of origin between the European Union, Albania, Bosnia and Herzegovina, the former Yugoslav Republic of Macedonia, Montenegro, Serbia and Turkey
from Guidelines on the eligibility of Israeli entities
2013/C 205/05
Guidelines on the eligibility of Israeli entities and their activities in the territories occupied by Israel since June 1967 for grants, prizes and financial instruments funded by the EU from 2014 onwards
1. These guidelines set out the conditions under which the Commission will implement key requirements for the award of EU support to Israeli entities or to their activities in the territories occupied by Israel since June 1967. Their aim is to ensure the respect of EU positions and commitments in conformity with international law on the non-recognition by the EU of Israel's sovereignty over the territories occupied by Israel since June 1967. These guidelines are without prejudice to other requirements established by EU legislation.
2. The territories occupied by Israel since June 1967 comprise the Golan Heights, the Gaza Strip and the West Bank, including East Jerusalem.
3. The EU does not recognise Israel's sovereignty over any of the territories referred to in point 2 and does not consider them to be part of Israel's territory (1), irrespective of their legal status under domestic Israeli law (2). The EU has made it clear that it will not recognise any changes to pre-1967 borders, other than those agreed by the parties to the Middle East Peace Process (MEPP) (3). The EU's Foreign Affairs Council has underlined the importance of limiting the application of agreements with Israel to the territory of Israel as recognised by the EU (4).
4. These guidelines do not cover EU support in the form of grants, prizes or financial instruments awarded to Palestinian entities or to their activities in the territories referred to in point 2, nor any eligibility conditions set up for this purpose. In particular, they do not cover any agreements between the EU, on the one hand, and the Palestinian Liberation Organisation or the Palestinian Authority, on the other hand.
…..
[see original]
---

European Commission confirms: Millions of EU-Research Money flows to Israeli Arms Industry
[The Dutch report comes from vrede-be/nieuws which means something like 'Pray for Peace'/news]
The European Union provides generous research and development funds to Israeli companies and institutions in the military sector.
The European Union provides generous research and development funds to Israeli companies and institutions in the military sector. We know this through the answer of the European Commission to a question (1) (2) from MEP Bart Staes (Groen) (3). "With the expanding military conflict in Syria and the possible involvement of Israel, it becomes clear again that investing European tax money in military goals is scandalous. Not worthy of a Nobel Peace Prize winner."
---
European Commission confirms: Millions of EU research money
Press Release, Vrede.Be, Brussels
June 03, 2013)
According to the European Commission 943 million euros worth of research money was assigned to Israeli 'legal entities' for their participation in European research projects between 2000 and 2013. The majority of the European subsidies (around 600 million euros) came from the European science programs, more specifically from the current FP7 Program for Research and Technology, which ends this summer.
"If the EU is serious about the Nobel Peace Prize it should invest every available euro in projects that promote peace and not one euro into military projects anywhere in the world and certainly not in the powder keg that is the Middle East."
Since the launch of the specific component 'security research' within FP7, the EU-money flows straight to Israeli defence and national security sectors – 26 million euros in 49 projects. There are 23 Israëli companies that are involved in one or several European security research projects. Five of them are arms companies: Israeli Airocraft Industries (IAI), Elbit Systems, Elbit Security Systems, Aeronautics Defence Systems and Opgal Optronics Industries. There are dozens of EU-sponsored drone projects. Previous research revealed that IAI, the biggest Israeli arms company and one of the world market leaders in the production of drones, managed to obtain at least 69 research funds since Israel joined the European research area. Verint Systems, one of the biggest security companies in the world is managing a project to export 'the total security of airports' to Europe. The consortium Verint Systems comprises 'Elbit Systems', another gigantic defence company that helped build the Israëli apartheid wall and that maintains it today.
On the 15th of May Vrede vzw, intal and Vredesactie campaigned in front of the European Directory General Research and Innovation to demand a halt to the European scientific cooperation with these companies.
Staes supports the demand of Vrede vzw, intal en Vredesactie to include restrictive 'ethical critera' in the coming EU framework program for Research and Technology, Horizon 2020, that will enter into force in 2014. These criteria should prevent that European research money goes to entities that contribute to the violation of international law, through their nature, the place they were established or their practices.
Staes: "If the EU is serious about the Nobel Peace Prize it should invest every available euro in projects that promote peace and not one euro into military projects anywhere in the world and certainly not in the powder keg that is the Middle East."
Horizon 2020 will be launched early next year. The current funding of Israeli arms companies shows the need of clear ethical criteria. Ludo De Brabander, spokesperson of Vrede vzw: "European research budgets shouldn't be allocated to companies that are invloved in preserving the illegal occupation of the Palestinian territories and the systematic violation of human rights."
More information:
(1) http://www.europarl.europa.eu/sides/getDoc.do?pubRef=-//EP//TEXT+WQ+E-20… [on TTIP]
(2) http://www.europarl.europa.eu/sides/getAllAnswers.do?reference=E-2013-00… 
(3) Summary table attached [see original]
Filed under: Cameron, EU, Nazi Israel, Netanyahu, Theresa May, UK |