Israeli soldiers arrest 16-year old girl and her mother in Nabi Saleh https://t.co/8nmNFoTduN https://t.co/Z5VAhxd2hh
SEE ALSO Palestinian Girl in Viral Video Arrested by Israel for Making the Occupation Look Bad
Army Arrests Palestinian Teen for Hurting Soldiers' Masculinity
Mother of Palestinian Teen Arrested After Going to Police Station to Ask About Daughter
Israel Threatens Teenage Girl Who Slapped a Soldier. Who Is Ahed Tamimi?
Israeli Army Brags About Arresting Teenage Girl
No break for the kid-targeted repressive operation of the Israeli forces. Tonight soldiers raided Nabi Saleh and arrested Ahed Tamimi. Since years, the village has been the scene for many protests against Halamish illegal settlement, whichs' construction led to land confiscation and theft of water from the local spring belonging to the Palestinians. During the years this little village echoed the Palestinian struggle all over the world.
16-year old Ahed has often appeared in videos where she is seen facing Israeli military during protests. On the 18th of december, when soldiers shot 14-year old Mohammed Tamimi, in the face with a rubber coated steel bullet (still treated in a medically-induced coma in the hospital), she stood in front of the entrance pushing the Israeli soldiers back trying to keep them out. The video has been used by the Zionist press as a mean of propaganda to show the kindness and the courtesy of the soldiers as a contrary to the 'violence' of Ahed. Of course, the blocking action costed her the arrest. This morning at 4 the Israeli armed forces stole the families cameras and telephone, beat the son up, and arrested Ahed. No explanation has been provided about the case.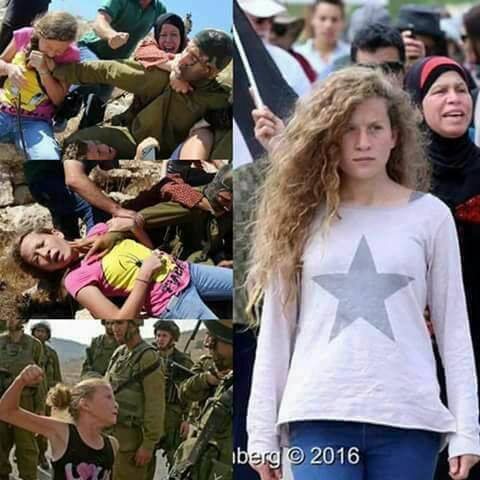 Furthermore, later in the morning, when her
mother Nariman went to Benjamin police station to ask for the daughter and the charges, the Israeli army reponse was to arrest her. The family still do not know anything about the evolution of the situation.
Meanwhile, this afternoon, Israeli soldiers kept on shooting tear gas and rubber coated steel bullets at people protesting at the checkpoint at the entrance of the village.
Filed under: Israeli Aggression, Jewish terrorism, Nazi Israel, Palestine | Tagged: Israeli Aggression, Jewish terrorism, Jewish violence, Netanyahu |