Russia hints UK lab was nerve agent source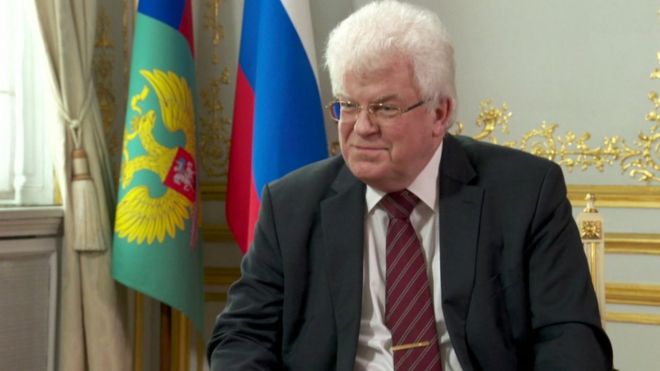 Russia's EU ambassador has suggested a UK research laboratory could be the source of the nerve agent used in the attack on an ex-spy and his daughter
Vladimir Chizhov told the BBC's Andrew Marr Show that Russia had "nothing to do" with the poisoning in Salisbury of Sergei Skripal and his daughter Yulia.
He said Russia did not stockpile the poison and that the Porton Down lab was only eight miles (12km) from the city.
The government dismissed his comments as "nonsense."
Retired military intelligence officer Mr Skripal, 66, and Yulia, 33, remain critically ill in hospital after being found slumped on a bench in Salisbury city centre on 4 March.
UK Prime Minister Theresa May told MPs that personnel from the Defence Chemical Biological Radiological and Nuclear Centre at Porton Down in Wiltshire had identified the substance used on them as being part of a group of military-grade nerve agents developed by Russia known as Novichok.
Mr Chizhov's comments come after a Russian foreign ministry spokeswoman said the UK was one of the most likely sources of the nerve agent, along with the Czech Republic, Slovakia, Sweden or possibly the United States.
Maria Zakharova said a large number of ex-Soviet scientists had gone to live in the West "taking with them the technologies that they were working on".
Czech foreign minister Martin Stropnicky said the claims were "unsubstantiated" and "a classic way of manipulating information in the public space", while Sweden also "forcefully" rejected the suggestion.
Filed under: Britain, Putin, Russia | Tagged: Theresa May |