According to media reports in Israel, President Trump is poised to demand that the UN Relief and Works Agency (UNRWA), which handles aid to 5.3 million Palestinian refugees across the Middle East, formally revoke refugee status from over 90% of them.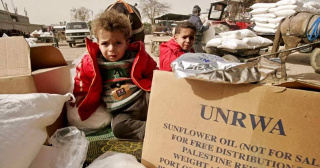 President Trump had been reported to want to undercut the UNRWA in the past, pressuring Jordan to revoke the refugee status of the millions of Palestinians there. He now wants a global cap of Palestinian refugees of 500,000, irrespective of circumstances.
Trump is said in particular to object to the idea that the children of refugees are also refugees. In practice, however, the refugees are stateless, and with the US opposing the right of return, the refugees are in a practical multi-generational refugee status with no end in sight.
Previous reports suggested Trump wanted to "handle" the problem of the large number of refugees by redefining it down to a more manageable number. It seems, however, this will be done by simple diktat, and that there is no plan for what happens to the other 4.8 million refugees once they're off the books.
This comes less than a week after President Trump promised the Palestinians would "get something very good" in return for losing Jerusalem. Since then, Trump has also diverted $200 million in aid meant for the Palestinians to be spent elsewhere.
Filed under: Nazi Israel, Palestine, UN, UNRWA, US Foreign Policy, USA | Tagged: Netanyahu, Trump, US Congress, US Lies, Wars for Israel |