Emmanuel Macron Accuses Top Brexiteers Of Being 'Liars'
French President blasts eurosceptics who thought vote would 'bring a lot of money home'.
Emmanuel Macron has launched a withering attack on Brexiteers as Theresa May's plan to extract the UK from the European Union appeared to be in tatters.
The French President said those who pushed the country towards Brexit on the basis it would "bring a lot of money home" are "liars".
His outburst came after a summit of EU leaders in Salzburg, Austria, where the UK Prime Minister failed to get support for her so-called Chequers plan.
Appearing to take aim at politicians such as Boris Johnson and David Davis, Macron told a news conference: "Those who explain that we can easily live without Europe, that everything is going to be alright, and that it's going to bring a lot of money home are liars. They left the next day so they didn't have to manage it."
Macron echoed the consensus among EU leaders as he poured cold water on May's plan, which had already faced cross-party criticism in the UK.
He said: "It was a good and brave step by the Prime Minister. But we all agreed on this today, the proposals in their current state are not acceptable. The Chequers plan cannot be 'take it or leave it'."
European Council President Donald Tusk also said May's proposed Brexit agreement "will not work".
The prime minister attempted to persuade EU leaders in Salzburg last night that her Chequers plan was the "only credible" deal on the table.
But Tusk told a press conference that the UK's proposal would not be accepted.
"Everybody shared the view that while there are positive elements in the Chequers proposal, the suggested framework for economic co-operation will not work, not least because it is undermining the single market," he said.
Despite Tusk potentially dealing a fatal blow to her plan, May insisted she was "continuing to work for a good deal".
At home, May faces opposition to her plan from hardline Brexiteer Tories as from many pro-Remain Tory MPs – complicating the chances of her being able to win a vote in parliament on the deal.
Jacob Rees-Mogg, the leader of the backbench eurosceptic Tory ERG group, said it was time for the prime minister to accept her proposal was dead.
"I think Chequers now has no supporters at all. I doubt even the Downing Street cat is any longer backing the Chequers plan," he said.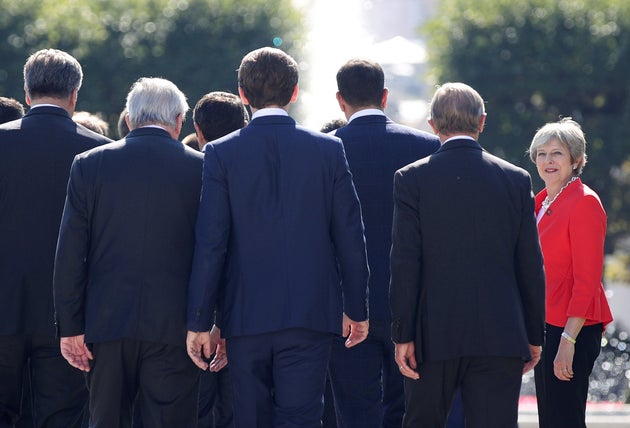 Lisi Niesner / Reuters Theresa May arrives for a family photo during the European Union leaders informal summit in Salzburg, Austria
May has proposed maintaining a "common rulebook" for goods with the EU after Brexit, keeping the same standards and regulations, in order to facilitate frictionless trade.
But under the plan, the UK would have different arrangements for services – a major part of the British economy.
The British government argues Brussels' alternative plan, which would see Northern Ireland remain in the customs union until a new arrangement could be agreed, would effectively create a border between the North and the rest of the UK – something the PM has said she could not accept.
Time is running out for the UK and EU to agree a deal by the next full EU summit on October 18, raising the prospect of a no deal Brexit.
An special emergency meeting in November has been pencilled in to try and finalise a deal.
Filed under: Boris Johnson, BREXIT, Britain, France, Macron, UK | Tagged: Boris Johnson, Macron, Theresa May |