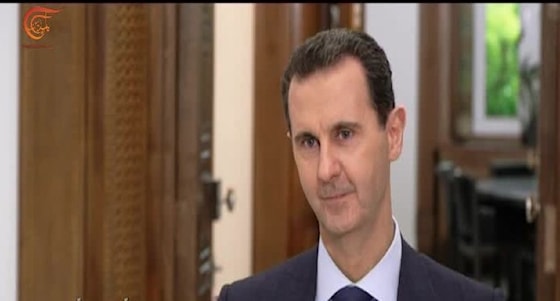 كانون الأول 09 2019
قناة الميادين تعرض المقابلة التي أجرتها محطة "راي نيوز 24" الإيطالية مع الرئيس السوري بشار الأسد، وتراجعت عن بثها، وموقع تويتر يغلق حساب الرئاسة السورية أثناء بثه المقابلة.
أغلق موقع تويتر  حساب رئاسة الجمهورية أثناء بثها مقابلة الرئيس السوري بشار الأسد مع "راي نيوز 24" الإيطالية والتي تم منع عرضها على المحطة.
وكانت قد قالت الرئاسة السورية إنه "بناءً على طلب محطة "راي نيوز 24″ الإيطالية إجراء لقاء مع الرئيس الأسد عبر المدير التنفيذي للـمحطة والمذيعة لديهم، مونيكا ماغيوني، تم إجراء اللقاء بتاريخ 26 تشرين الثاني/نوفمبر، كما تم الاتفاق على أن يكون البث ليل يوم الاثنين الموافق 2 كانون الأول/ديسمبر".
وأضافت الرئاسة السورية، في بيان لها قبل يومين، أن  المذيعة "مونيكا"، أبلغت الرئاسة أنها تريد الاستئذان بتأخير البث، وذلك لأسباب غير مفهومة، وتكرر طلب تأخير البث أكثر من مرة، ولم يتم تحديد موعدٍ للبث من قبل المحطة المذكورة حتى الآن، ما يوحي بأن اللقاء لن يبث.
وبحسب المكتب السياسي والإعلامي في الرئاسة السورية فقد "كان حرياً بوسيلة إعلامية أوروبية أن تتقيد بالمبادئ التي يدعيها الغرب، وخصوصاً أنها تعمل في بلد هو جزء من الاتحاد الأوروبي الذي يفترض أن تكون الحريات الإعلامية والرأي والرأي الآخر جزءاً أساسياً من قيمه".
وأعطت الرئاسة في حينها مهلة يومين للقناة الإيطالية لبثّ المقابلة، وإلا سيتم بثها على حسابات الرئاسة على وسائل التواصل الاجتماعي وعلى عدد من قنوات الإعلام الإثنين 9 كانون أول/ديسمبر عند الساعة التاسعة مساءً بتوقيت دمشق.
President #Assad #interview with #RaiNews24 will be broadcasted in full, on all our Social Media accounts, tomorrow at 9pm Damascus time.
586 people are talking about this
وعلى إثره، عرضت قناة الميادين المقابلة "التي لم تُبث" اليوم الإثنين عند الساعة التاسعة بتوقيت القدس.
الأسد: أوروبا كانت لاعب أساسي في حدوث الفوضى في سوريا وكما تزرع تحصد
وتحدث الأسد في المقابلة عن اللاجئين السوريين في أوروبا، وقال إن "الإرهاب مدعوم من أوروبا، وبالطبع من الولايات المتحدة، وتركيا وآخرين، وأوروبا كانت لاعب أساسي في حدوث الفوضى في سوريا، وبالتالي كما تزرع تحصد، فالاتحاد الأوروبي دعم الإرهابيين علناً في سوريا منذ البداية، وهم حمّلوا الحكومة السورية المسؤولية وبعض الأنظمة كالنظام الفرنسي أرسلت للإرهابيين الأسلحة، وهذا ما قاله وزير الخارجية الفرنسي الأسبق لوران فابيوس".
وأضاف "هم أرسلوا السلاح وهم خلقوا هذه الفوضى، ولذلك فإن عدداً كبيراً من السوريين لم يعد بإمكانهم العيش في سوريا ووجدوا صعوبة في ذلك".
الأسد: لم نستخدم السلاح الكيميائي ولا نستطيع استخدامه
كذلك، تطرق الأسد إلى "رواية استخدام الأسلحة الكيميائية"، وقال "قلنا منذ البداية لم نستخدمها ولا نستطيع استخدامها، ومن المستحيل استخدامها في وضعنا لعدة أسباب، أولها، عندما نكون في حالة تقدم لماذا نستخدم السلاح الكيميائي؟ السبب الثاني، ثمة دليل ملموس يدحض هذه الرواية: عندما تستخدمين هذه الأسلحة فأنت تستخدمين سلاح دمار شامل، أي آلاف القتلى، أو على الأقل مئات، وهذا لم يحدث مطلقاً، هناك فقط تلك الفيديوهات التي تصور مسرحيات عن هجمات مفبركة بالأسلحة الكيميائية".
وأضاف، "في تقرير ويكيليكس حول الهجوم الكيميائي المزعوم في دوما، ثمة تطابق بين الفيديوهات وما رأوه كتقنيين وخبراء، فكمية الكلور التي يتحدثون عنها والتي عثروا عليها هي نفس الكمية الموجودة في أي منزل، ويتم استعمالها للتنظيف، وهي ليست أساسا سلاح دمار شامل، وما فعلته منظمة حظر الاسلحة الكيميائية هو فبركة وتزوير التقرير لمجرد أن الأميركيين أرادوا منهم فعل ذلك، ولحسن الحظ أن هذا التقرير أثبت أن كل ما كنا نقوله في السنوات القليلة الماضية صحيحاً، ونحن محقين وهم مخطئين، ومرة أخرى تثبت هذه المنظمة انحيازها، وأنها مسيّسة ولا أخلاقية، علماً أنها يجب أن تعمل بالتوازي مع الأمم المتحدة على خلق المزيد من الاستقرار في العالم".
وفي سياق آخر، أشار الرئيس السوري إلى أن روسيا لا تدعم تركيا في غزو سوريا إنما تؤدي دوراً في إقناع تركيا بمغادرتها، ولم تساوم بشأن سوريا.
كما عبّر عن شعوره بالاشمئزاز إذا تعيّن عليه إجراء نقاشات مع إردوغان إلا أن وظيفته تتعلق بمصالح سوريا.
Filed under: Europe, France, Russia, Syria, Syria Assad, Takfiris, Turkey, UAE, War on Syria | Tagged: Al Mayadeen, Erdogan |