June 17, 2018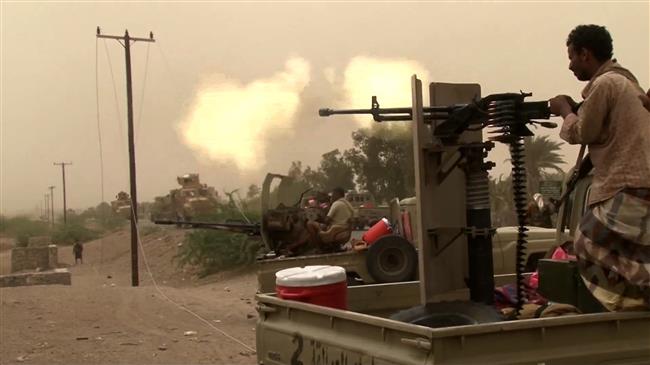 The Saudi and Emirati aggression on Yemeni port of Hodeidah is resulting only in failure, with Yemeni Army and Popular Committees retaking initiative in the biggest battle since the war on Yemen started in March 2015.
Official in Ansarullah revolutionary group, Mohammad Al-Bakhiti, dismissed all reports that the Saudi-led forces have taken the airport of Hodeidah, stressing that the aggression powers sustain heavy losses.
"Yemeni forces completely retook initiative in western coast battle," Al-Bakhiti said.
"Aggression forces have never secured any achievement in Hodeidah, morale of Yemeni Army, popular committees high," the Yemeni official added.
Meanwhile, Yemeni sources confirmed that the Yemeni allied forces were still in control of the airport of Hodeidah, noting that Saudi-led media reports on capturing the airport aimed at diverting attention from the huge losses inflicted upon Saudi-led ground troops and mercenaries in several fronts across the port city.
In this context, Mohammed al-Sharif, deputy head of Yemen's civil aviation, said images circulated online about the airport had been taken in October 2016.
"Yemeni forces are calling upon Saudi-led forces via speakers to surrender because they have no other choice. They are besieged from three sides with the fourth side is the sea," Sabaa News Agency quoted a Yemeni source as saying.
"They are collapsing and the results of the battle show how they are in pure failure," the source added.
The UAE, a key member of the Saudi-led coalition waging the war on Yemen, launched the Hudaydah assault on Wednesday despite warnings that it would compound the impoverished nation's humanitarian crisis.
Source: Agencies
Related Videos
Related Articles
Filed under: AngloZionist Empire, Ansarullah, Arab Zionists, Saudia, Siege on Yemen, UAE, USA, War on Yemen, Yemen, Zionist entity | Leave a comment »