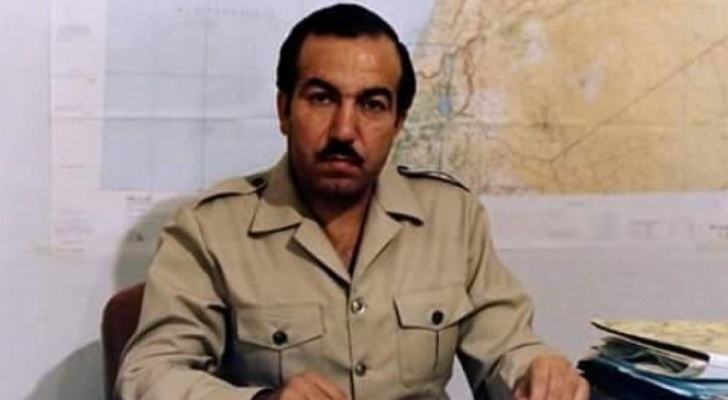 سُمّي بالرجل الثاني للثورة الفلسطينية ونائب القائد العام لقوات العاصفة، وجياب الثورة الفلسطينية لشدة شباهته بجياب فيتنام، لكننا كما عرفناه في اللحظات الاستثنائية على امتداد سنوات العمل الفدائي فهو الرجل الطاهر وقاهر الجنرالات كللاً ومللاً وإحباطاً ويأساً وقنوطاً…!
الرجل المهذّب والمؤدَّب والخجول الذي يعتني بهندامه ويحرص على تمشيط شعره حتى وهو ذاهب الى معسكر التدريب واهدأ رجال الثورة على الإطلاق وأكثرهم وداعة ووسامة وخُلُقاً في كل أيام السنة حتى لتظنه أبعد ما يكون عن الحرب والسلاح…!لكنه هو نفسه صاحب الروح العاصفة التي تنتفض من داخله وسرعان ما يظهر لك بركاناً ثائراً يمتلئ دفعاً وعنفواناً وروحاً حربية لا تهدأ ولا تكل ولا تمل بعد ثوانٍ من جلوسك إليه..
شخصيته الهادئة هذه لا تقوى على السكينة بعد دقائق من الحوار معه إذ سرعان ما يشي لك بأن كل كيانه يحنّ للاشتباك مع العدو كما يحن الطفل لحليب أمه، وتدفعه المشاعر الجيّاشة للانتقال إلى فلسطين المستولية على وجوده أساً كان المكان أو الزمان الذي تواجد فيهما وهو الذي تنقل في كل الساحات حاملاً هموم شعب الجبّارين الحافلة بالمفاجآت والمتغيّرات…!
وقد تكثّفت كل هذه السمات لدى قائد الفدائيّين الشعبيّ الذي لم يستقرّ له قرار، بطريقة حوّلته عملياً إلى غرفة عمليات متنقلة ومتحرّكة خاصة بعد أن تسلّم، مسؤولية القطاع الغربي – أي فلسطين المحتلة – وهي التسمية التي تعود الى حقبة تمركز الفدائيين الفلسطينيين في الاردن، حيث كانت الجبهة مع العدو مقسمةً الى ثلاثة قواطع، هي: القطاع الشمالي والقطاع الأوسط والقطاع الجنوبي.
فمن المعروف أن الشهيد أبا جهاد كان قد عكف منذ توليه هذه المسؤولية خلفاً للشهيد كمال عدوان، على إحداث انقلاب استراتيجيّ في مفهوم الحرب الشعبية طويلة الأمد وتطويرها وتعميقها، وهي الحرب التي كانت تمارسها قوات الثورة الفلسطينية، منذ انطلاق الثورة بتاريخ 1/1/1965.
وقد تمثلت الفكرة المركزية، لديه، في تطوير هذا المفهوم، في إيجاد أو بناء القاعدة الجماهيرية القادرة على تحويل هذه الفكرة (فكرة الانقلاب الاستراتيجي) الى خطوات عملية تتبلور في كل إنسان فلسطيني، بحيث تتحول شخصية الواحد من السكان الى قوة فاعلة في مواجهة العدو وإضعاف سيطرة الغاصب والمحتل العسكرية على الأرض التي يحتلها، من خلال استنزافه الدائم في معركة لا يمكن له أن ينتصر فيها حتى صارت عقيدة عمله الكفاحية الفدائية تقول: أنا الفلسطيني أشتبك إذن أن موجود.
بدأ أبو جهاد بإعادة هيكلة تنظيم حركة فتح وإنشاء أطر جديدة لهذا التنظيم، كحركة الشبيبة (الفتحاوية)، التي بدأت تنشط في الثانويات والجامعات داخل الأرض المحتلة، تمهيداً لإشراك كل جماهير الشعب الفلسطيني في الأرض المحتلة في استنزاف جيش العدو ومشاغلته والمشاغبة عليه في كل وقت وحين.
وبالتوازي مع بناء التنظيم والخلايا الفدائية المسلحة، داخل فلسطين المحتلة، واصل الجنرال أبو جهاد من موقعه كنائب القائد العام لقوات الثورة الفلسطينية، إلى بناء وتطوير الوحدات القتالية الفدائية القادرة على اختراق إجراءات العدو الأمنية والوصول الى عمق تشكيلات العدو وبنيانه وتنفيذ عمليات فدائية كبرى ضد قواته ومنشآته في فلسطين المحتلة.
ولعل من المفيد في ذكرى استشهاده الثالثة والثلاثين 16 – 4 – 1988 الإضاءة على بعض تلك العمليات الفدائية الكبيرة، التي شكلت ضربات موجعةً جداً للعدو والتي قلبت معادلة الصراع معه، ومن بينها العمليات التالية:
عملية فندق سافوي في تل أبيب، والتي نفّذتها قوة فدائية، قوامها ثمانية فدائيين، بتاريخ 6/3/1975، حيث سيطرت على الفندق، بعدما لم تتمكن من الوصول الى وزارة الدفاع الإسرائيلية والسيطرة عليها، حسب الخطة الأساسية للعملية. حضر إلى مكان العملية كلّ من رئيس وزراء العدو آنذاك، اسحق رابين، ووزير حربه، شمعون بيرس، ورئيس أركان جيشه، الجنرال مردخاي غور، وقاموا بالإشراف شخصياً على محاولات القوات الخاصة الإسرائيلية لاقتحام الفندق وقتل الفدائيين الفلسطينيين، حيث حاولت هذه القوات مرة أولى وثانية وفشلت فيهما، مما جعلها تقوم بقصف الفندق بمدفعيّة الدبابات وتنفيذ عملية إنزال قوات محمولة على سطح الفندق والاشتباك من جديد مع المجموعة الفدائية، التي قاتلت ببسالة حتى نفاد ذخيرتها، واستشهاد سبعةً من أفرادها ووقع الثامن أسيراً بعد إصابته بجراح، في ما قُتل من قوات العدو المهاجمة 56 عنصراً وأصيب ما يربو على 100 جندي بجراح مختلفة، بينهم العقيد عوزي يائيري، ضابط الاستخبارات العسكرية الإسرائيلية، الذي وضع خطة اغتيال القادة الفلسطينيين الثلاثة، كمال عدوان وأبو يوسف النجار وكمال ناصر في بيروت بتاريخ 10/4/1973، والذي شارك في تنفيذ العملية على الأرض أيضاً.
عملية الساحل، بقيادة الفدائية دلال المغربي، والتي تمّ تنفيذها بتاريخ 11/3/1978 وأطلق عليها اسم: عملية الشهيد كمال عدوان، حيث وصلت تلك القوة إلى السواحل الفلسطينية، على متن باخرة تجارية كانت تحمل الزوارق المطاطية التي استخدمها الفدائيّون في الوصول من نقطة انفصالهم عن الباخرة الأم حتى وصولهم إلى ارض فلسطين، شمال تل أبيب، وقيامهم بالسيطرة على عدة حافلات عسكرية إسرائيلية واشتبكوا مع دوريات العدو، التي بدأت مطاردتهم فوراً، الى أن وصلت الحافلات الى منطقة هرتسيليا حيث قامت قوات خاصة إسرائيلية بالهجوم من الجو والبر على الحافلات التي كان يستقلها الفدائيون مع الرهائن الصهاينة.
وقد اشتبك الفدائيّون الفلسطينيون، لمدة تزيد على الساعتين، مع القوات الخاصة والمروحيات العسكرية الإسرائيلية، التي كانت تساند وحدات العدو، وتطلق النار من الجو على الفدائيين، الذين استشهدوا جميعاً باستثناء واحد منهم وقع في الأسر بعد أن نفدت ذخيرته. أما خسائر العدو فقد وصلت إلى 79 قتيلاً بالإضافة الى ما يزيد على 123 جريحًا جرى إخلاؤهم جواً من أرض المعركة.
علماً أن الجيش الصهيوني قد بدأ بعمليات التمهيد الناري، لشنّ هجوم، واسع على قواعد الفدائيين في جنوب لبنان، اذ عمدت مدفعية العدو بفتح نيرانها على طول الحدود اللبنانية مع فلسطين المحتلة، بينما بدأ الطيران الحربي المعادي، عند الساعة الواحدة من فجر 15-3-1978 بتنفيذ غارات جوية كثيفة على أهداف للقوات المشتركة، اللبنانية الفلسطينية، في جنوب لبنان وجنوب العاصمة بيروت، وأتبع ذلك بعمليات إنزال جوي في منطقة العزية/ قضاء صور، وبدأ اجتياحه البري لجنوب لبنان في عملية عسكرية واسعة النطاق أسماها العدو: عملية الليطاني. ولا يخفى على أحد طبعاً أن العملية كان مخططاًلها مسبقاً وبانتظار التنفيذ فقط، إذ لا يعقل أن يجري التخطيط لعملية عسكرية واسعة النطاق وتحريك قوات برية وبحرية وجوية كبيرة خلال ثلاثة أيام فقط.
محاولة الهجوم البحري على ميناء ايلات سنة 1985. وهي عملية تم خلالها تجهيز باخرة، في ميناء من موانئ إحدى الدول العربية، لتنفيذ عملية بحريّة لتدمير ميناء إيلات عن بكرة أبيه وإخراجه من الخدمة لسنوات طويلة، حيث تم تدريب مجموعة من الضفادع البشرية الفلسطينية على قيادة السفينة ثم تم تحميلها بمئات الأطنان من المواد المتفجرة، كي يتم تفجيرها عند دخول الباخرة الى الميناء، بالتزامن مع قصف صاروخيّ، بمئة وستين صاروخ غراد، لمنطقة الميناء، كان يفترض أن ينفذ من منطقة العقبة الأردنية المقابلة لإيلات، لكن تآمر جهاز مخابرات إحدى الدول العربية، المشاطئة لخليج إيلات، ورصدها للسفينة المسلحة ونقل معلومات حولها للعدو، قد أفشل العملية، حيث بادر العدو إلى مهاجمة السفينة على مدخل خليج العقبة واشتبكت معه المجموعة الفدائية لحوالي ساعة ونصف. وقد أسفرت العملية عن استشهاد المجموعة الفدائية المكونة من تسعة مقاتلين وإيقاع عدد من القتلى والجرحى بين جنود العدو.
أما كبرى ثمار جهود الشهيد أبو جهاد المتواصلة لإحداث انقلاب استراتيجي، في المواجهة مع العدو الصهيوني، فقد نضجت في شهر 12/1987 عندما انفجرت الانتفاضة الشعبية الفلسطينية، التي شاركت فيها جماهير الشعب بكل فئاتها وفي كل المناطق المحتلة، في الضفة والقطاع وحتى تلك المحتلة عام 1948 والتي خلدت في التاريخ باسم انتفاضة الحجارة. حيث قام الشهيد أبو جهاد، عبر القيادة الوطنية الموحدة للانتفاضة التي شكلها ورعاها داخل فلسطين المحتلة، بمتابعة كافة التفاصيل الميدانية والعملياتية، بما في ذلك عمليات الإمداد والتمويل والدعم الإعلامي والسياسي والديبلوماسي، على امتداد العالم. حيث قام بإنشاء غرف عمليات قيادة وسيطرة في اكثر من دولة في العالم لمتابعة أدق تفاصيل الانتفاضة بهدف تطويرها ودفعها الى الأمام.
نجح الشهيد أبو جهاد اذاً، في جعل المواجهة مع العدو حرباً شعبية طويلة الأمد، استمرت لسنوات بعد استشهاده، سنة 1988. أي أنه أحدث تحولات استراتيجية عبر انخراط كل جماهير الشعب في العمل الوطني المباشر في الميدان، وإن باستخدام أبسط وسيلة اشتباك ألا وهي الحجارة فق ط.كما أنه نجح، من خلال هذه الانتفاضة بفرض حرب استنزاف طويلة الأمد على جيش العدو الصهيوني، الذي اضطر الى نشر ثلاث فرق كاملة، في الضفة والقطاع، محاولاً قمع الانتفاضة وإخمادها من دون جدوى.
وبعد هذا النجاح الهائل، في إشراك الشعب بأكمله في مقاومة الاحتلال، تابع الشهيد أبو جهاد جهوده لتعزيز الصمود الشعبي وتوجيه المزيد من الضربات العسكرية الموجعة للعدو، تعزيزاً للشعب الثائر ولممارسة المزيد من الضغط على قادة العدو، رئيس الوزراء اسحق شامير ووزير دفاعه اسحق رابين ورئيس الأركان الصهيوني دان شومرون، الذين أمعنوا في تكسير عظام الفلسطينيين وفشلوا في إخماد ثورتهم.
وفي هذا الإطار قام الشهيد أبو جهاد، بوضع خطة لتوجيه ضربة عسكرية استراتيجية، للعدو الصهيوني، من خلال مهاجمة مفاعل ديمونا النووي الإسرائيلي لتكون بمثابة قوة ضاربة في طليعة المواجهة، حيث تمّ تدريب وتجهيز ثلاثة من الفدائيين الفلسطينيين ونقلهم إلى داخل الأرض المحتلة بعد عملية رصد واستطلاع دقيقة لمحيط المفاعل والإجراءات الأمنية الإسرائيلية، المتبعة لحمايته.
وفي صباح يوم 7/3/1988 تمكّن الفدائيون الثلاثة من الوصول الى نقطة، تبعد سبعة كيلومترات فقط عن مركز المفاعل، وقاموا بالسيطرة على حافلة تحمل ضباطاً وخبراء نوويين إسرائيليين وانطلقوا بها الى مركز المفاعل. وعلى الفور تمّ تفعيل اجراءات التأمين وقامت المروحيّات العسكرية الإسرائيلية بمحاصرة الحافلة ومن على متنها بالنيران ثم قاموا بإنزال قوة صهيونيّة مجوقلة عند نقطة اشتباك قريبة من الحافلة. وقد بادر الفدائيون قوات العدو بوابل من النيران واشتبكوا مع قوات العدو لمدة تزيد عن الساعة إلى أن نفدت ذخيرتهم واستشهدوا جميعاً.
كانت تلك هي المرة الأولى التي يتخذ فيها قائد عربيّ قراراً بالهجوم المباشر على هذا الموقع الإسرائيلي الحصين والاستراتيجي وهو ما اعتبرته القيادة العسكرية والسياسية الإسرائيليتان تجاوزاً خطيراً لكل الخطوط الحمر، الأمر الذي أدى بها الى اتخاذ قرار باغتيال الشهيد خليل الوزير / أبو جهاد.
وقد تم تنفيذ عملية الاغتيال في ضواحي العاصمة التونسية، تونس، حيث تم إنزال القوة المكلفة بعملية الاغتيال، وبتواطؤ من أجهزة نظام الرئيس التونسي السابق زين العابدين بن علي، بحراً على شاطئ مدينة المرسى التونسية التي تبعد بضعة كيلومترات فقط عن مقر قيادة الشهيد ابو جهاد. تسللت تلك القوة الى الموقع وقامت باغتيال الحراس الليليين للموقع واقتحمت المبنى، حيث يقيم الشهيد أبو جهاد، والذي تصدّى لجنود العدو بما يملك من أسلحة نارية واشتبك معهم داخل المقر الى أن نفدت ذخيرته وارتقى شهيداً، بعد أن أصيب بثلاث وسبعين رصاصة معادية. علماً أن العقل الذي خطط للعملية وقادها، من على متن طائرة قيادة عسكرية إسرائيلية، كانت تحلق على بعد مئتي كيلو متر شمال مكان العملية، هو الجنرال ايهود باراك، الذي تولى لاحقاً وزارة الدفاع ثم رئاسة الوزراء في كيان العدو.
وعلى الرغم من الخسارة الكبيرة التي مُني بها الشعب الفلسطيني، بشهادة مؤسس وقائد انتفاضة الحجارة الفلسطينية أبو جهاد، إلا ان هذا الشعب قد واصل انتفاضته، بقيادة القائد العام لقوات الثورة الفلسطينية، الأخ الشهيد ابو عمار، الذي قاد هذا الشعب الى عودة جزئيّة الى الوطن المحتل، لا بل الى إقامة سلطة وطنية فلسطينية، مرغماً العدو الصهيونيّ على التفاوض مع قيادة هذا الشعب، ممثلاً بمنظمة التحرير الفلسطينية رغم ما شاب هذه العملية التفاوضية من أخطاء فادحة وعثرات، لكن ما يُكتب لأبي جهاد ومقولته الثورية أنا اشتبك إذن أنا موجود أنه هو مَن أسس عملياً لاعتراف العدو بوجود الشعب الفلسطيني لعقود طويلة من الزمن. الأمر الذي شكل محطة هامة من محطات نضال الشعب الفلسطيني لتحرير وطنه فلسطين وإقامة دولته الوطنية المستقلة على أرضه كل أرضه، طال الزمان أم قصُر.
بعدنا طيبين قولوا الله.
Filed under: Israeli Crimes, Lebanon, Palestine, Tunis | Tagged: Abu Jihad, Fateh, Intifada, Long-running people's war, Palestinian Resistance, The assassination of Abu Jihad, Zionist entity | Comments Off on أبو جهاد خليل الوزير أول الرصاص أول الحجارة…أنا أشتبك.. فأنا موجود!