Promoted to high political office simply because he was a school chum of Cameron's he is now turning out to be a dangerous liability.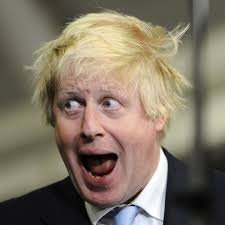 He blames the Russians for the bombing of a Syrian aid convoy, not the slightest proof of that exists, in fact the evidence on the ground suggest that it was a victim of a ground attack , almost certainly carried out by ISIS terrorists.
He accuses the Russian of committing war crimes in Syria, but when asked what International Law or UN Resolution authorises the UK to go on bombing runs in Syria he was unable to answer. That of course IS a war crime.
Now he's calling for demonstrations outside the Russian Embassy, did it never occur to the idiot that the Russians may well start reciprocal action in Moscow?
Boris "the clown" Johnson was also one of the leading dimwits calling for Brexit , the consequences of which are already becoming quite obvious, it's going to mean a huge fall in living standards in the UK.
UK Foreign Secretary Boris Johnson has used his debut at the House of Commons dispatch box to accuse Russia of bombing an aid convoy in Aleppo, and asked why anti-war activists have not mounted protests outside the Russian Embassy in London.

"Where is the Stop The War coalition at the moment? Where are they?" asked Johnson, during an emergency parliamentary debate on the situation in Aleppo, Syria.

"All the available evidence therefore points to Russian responsibility for the atrocity," said Johnson, referring to the bombing of the UN aid convoy on September 20 that resulted in the deaths of 20 people, and the destruction of 18 trucks, which he had previously called a "war crime."

"There is no commensurate horror, it seems to me, amongst some of those anti-war protest groups," said Johnson.

"If Russia continues in its current path, then I believe that great nation is in danger of becoming a pariah nation," said the Foreign Secretary, who was appointed by Theresa May in July.

Johnson also called for further sanctions against Russia, which is already under several Western embargoes over Crimea, and the conflict in eastern Ukraine.

"We've got to make sure we have innovative ways of getting aid into Aleppo, and as several members have said, we have to step up the pressure on Assad's regime through sanctions and on the Russians through sanctions," said the Conservative politician.

He also raised the possibility of an international legal effort to bring to justice those allegedly responsible for war crimes in Syria, a day after France and UN Secretary Ban Ki-Moon made the same appeal.

"I'm personally very attracted to the idea of getting these people [war criminals] to come before the International Criminal Court. That's certainly something I would like to pursue," said Johnson
Filed under: Boris Johnson, Syria, Syria Assad, UK | Tagged: Boris Johnson, Theresa May |